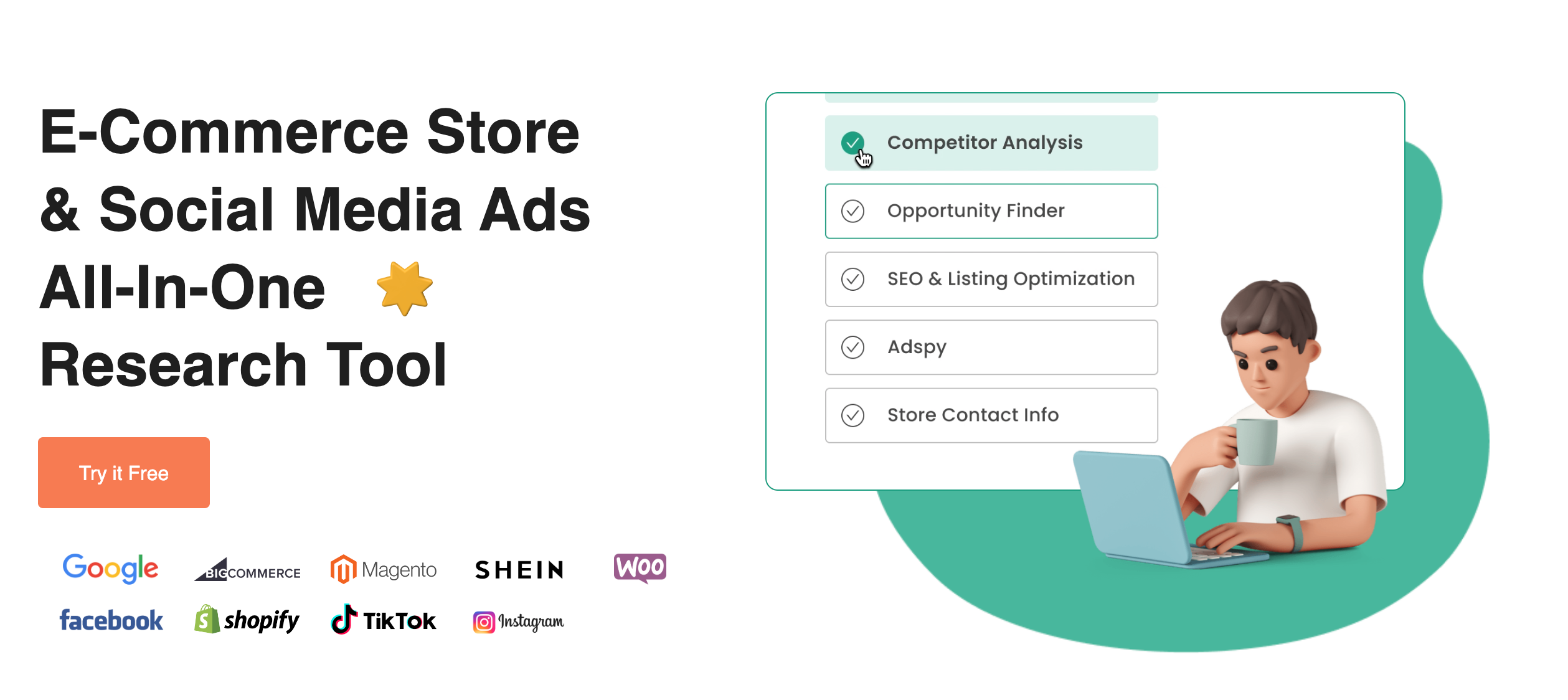 In the dynamic world of direct-to-consumer (DTC) e-commerce, Diffshop emerges as a game-changer. With its robust capabilities in monitoring over 9 million e-commerce stores and 1 billion products, Diffshop offers unparalleled insights for businesses looking to stay ahead of the curve.
Introduction:
In the bustling realm of e-commerce, Diffshop has emerged as a vital ally for retailers and dropshippers. By providing live monitoring and in-depth analysis of over 9 million e-commerce stores and 1 billion products, Diffshop stands out as a revolutionary tool that offers businesses the insights they need to thrive in a competitive market.
E-Commerce Mastery with Precision Analytics:
Every online retailer knows the challenge: understanding the market, identifying winning products, and outmaneuvering competitors is no small feat. This is where Diffshop's Shopify Inspector & Competitor Analysis Tool shines. Offering a live sales tracker and comprehensive data analytics, it grants users a panoramic view of the digital marketplace.
Retailers can now access real-time data on traffic, keywords, backlinks, and more, giving them a strategic advantage. With this level of insight, Diffshop users can swiftly adapt to market shifts, optimize their store performance, and increase visibility among potential customers.
The Ultimate Dropship Product Finder:
For dropshippers, the Dropship Product Finder is a cornerstone feature of Diffshop. This potent tool provides live monitoring of an extensive product database, delivering metrics like historical sales figures, revenue, and product ratings. Dropshippers can identify bestselling items, understand market trends, and make data-backed decisions that propel their business forward.
Customer Success Spotlight:
The true power of Diffshop is best reflected in the success of its users. From small startups to established brands, businesses have harnessed the power of Diffshop to expand their reach, curate their product offerings, and significantly boost their bottom lines.
One such story is of a burgeoning online boutique that used Diffshop to track trending products, resulting in a 50% increase in their quarterly sales. Another is a mid-sized dropshipping business that optimized their ad spend and product selection, doubling their conversion rate within months.
Expert Endorsements:
Industry experts have taken note of Diffshop's impact. As one e-commerce strategist puts it, "Diffshop's analytics tools are not just changing the game; they're rewriting the rules." By enabling access to such deep market intelligence, Diffshop is acclaimed for its role in democratizing data analytics for e-commerce businesses of all sizes.
Looking Ahead:
Diffshop is not content to rest on its laurels. The company is committed to pushing the envelope, continuously updating its algorithms and expanding its database to provide even more precise and actionable insights.
Conclusion:
Diffshop is more than a tool—it's a strategic partner for any e-commerce or dropshipping enterprise aiming to conquer the digital marketplace. With its robust analytics, comprehensive product tracking, and a user-friendly interface, Diffshop offers a competitive edge that is unparalleled in the industry.
Retailers and dropshippers are invited to sign up for a free trial and experience firsthand the transformative capabilities of Diffshop. Join the ranks of successful businesses that have already made Diffshop their secret weapon in the fast-paced world of online retail.
Media Contact
Company Name: Diffshop Tech Co., Ltd
Contact Person: Sophia
Email: Send Email
Country: HongKong
Website: https://www.diffshop.com/