Song: https://dt.fanlink.to/mmb
When DESON TENINCHY says he's getting to the bag, believe him. The New York based Recording Artist/Entrepreneur has been keeping his finger on the pulse of what's hot in the street and has been making moves to ensure his brand gets bigger and better. Following a successful launch of his latest single, "Minding My Business", he wants to grab everyon's attention once again with the single's official video.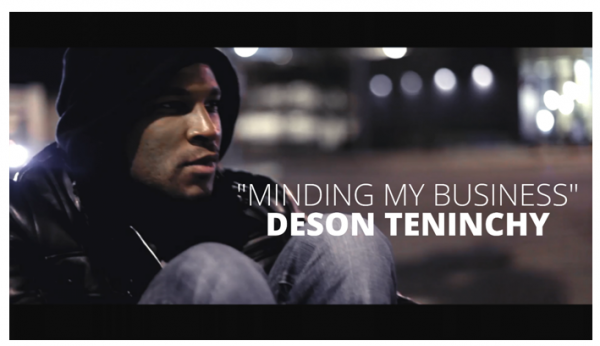 Keeping in theme of getting to the bag, DESON TENINCHY shares a story of a young man who grew up in the city among poverty, crime, and broken dreams. Despite all that he sees daily, he was determined to make it, and throughout the video he is gradually stepping out of poverty, making money moves in corporate offices, and living the good life. DESON describes the video as a "Rags to Riches" story and believes it will provide some well needed motivation for those trying to achieve success worldwide. His single has become a hustler anthem for many, while the video will give the hustler's spirit an extra boost.
Growing up in Brooklyn, DESON TENINCHY knew from a young age that he was gifted. Having parents who were not only supportive but musically inclined, DESON would find himself immersed in various aspects of the music industry. He has played the roles of producer, artist, pop musician, and label owner over the years. With influences in Reggae, Hip Hop, Doowop, Soul, Jazz, Calypso, and the streets of Brooklyn, DESON not only crafted great music filled with clever lyrics, but made music that listeners can learn from, and displayed mannerisms and ethics that commands respect for him and those affiliated with him. He has worked with everyone from KRS-One, to Eminem, to Jadakiss, to Kool G Rap, to the late Big Pun.
DESON TENINCHY's video for "Minding My Business" will premiere on December 19th on his Estate Entertainment's official YouTube channel. The single is available on all digital music streaming platforms and is distributed through Estate Entertainment. To stay up to date with DESON TENINCHY, subscribe or follow him on social media using one of the outlets below.
Music, Subscribe & Info: https://linktr.ee/desonteninchy
Instagram: https://www.instagram.com/desonteninchy
Facebook: https://www.facebook.com/desonteninchy
Twitter: https://www.twitter.com/desonteninchy
Estate Entertainment is an entertainment agency based in Bayonne, NJ. They are a record label, dance studio, music studio, and event planning team of experts. Since their inception, they have built a solid reputation as one of the world's leading event entertainment agencies and providers of exceptional vocal, dance, and live entertainment.
Media Contact
Company Name: Estate Entertainment
Contact Person: Nicole White
Email: Send Email
Phone: 201.354.9230
Address:685 Broadway
City: Bayonne
State: NJ 07002
Country: United States
Website: www.estateent.com