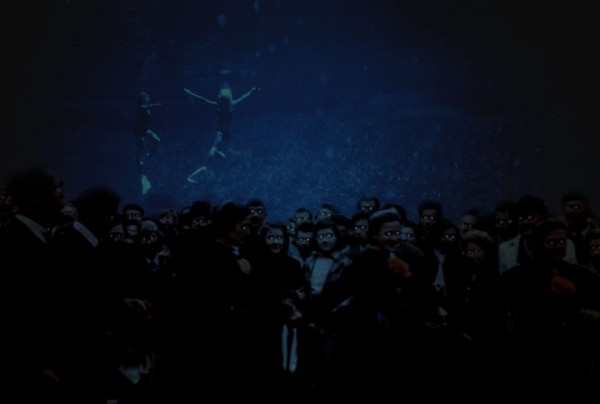 Darkplace is a talented, intriguing yet anonymous new band that has entered the music scene with their debut album "Catabasis to Catharsis" featuring eleven distinct songs, reminiscing the Goth, Post Punk, and NewWave genres. What makes this album stand out is the way the band is bringing every track to life, with a corresponding painting, that gives a visual form to the overall vibe of the song. The band has created eleven captivating paintings, matching the 11 track of their new album, some of which paintings are also available for sale on the band's website. The monochrome paintings perfectly complement the dark, and mysterious aura of different tracks.
The lead member of the band, who also prefers to be anonymous, and away from the limelight, creates all featured paintings. Although he was kind enough to give the readers a sneak peek into the story of how he started the band, and said, "This is a story about a lifetime of making music, not being very successful, but kinda successful still. Barely affording rent. Forced to take "cash cow" jobs to afford a living. Making the window of time to make music smaller and smaller. This builds up huge pressure. Both the pressure of creating music and even releasing music."
Darkplace completed their new album in 2018 but somehow, didn't find the courage to release it. But finally, after two years, a voice in the lead's head and the thought of leaving this album to die away in an empty space of the Internet was a bit heartbreaking. The band-lead was going through depression at the time, and as suggested by his therapist, he decided to find a creative outlet for all his thoughts. He soon learned to combine his love for music with his artistic side, and started painting every song of the album. It was like meditation and he gradually started coming back to life.
Once he was done, the pressure of releasing the album was reduced and he decided to finally release the album. It's a one of its kind musical project that quite literally 'paints a picture' with every song, so the listener can deeply connect to it. Anyone who has faced mental health issues, emotional turmoil, and tough situations in their life, will be able to relate to both the songs and the artwork. The husked vocals, evocative songwriting, and an interesting concoction of instruments make every song compelling to the listeners.
Listen to the band's debut album on Spotify.
Check out more information and paintings on their website darkplacemusic.com.
Media Contact
Company Name: Darkplace
Contact Person: Dennis
Email: Send Email
Country: Sweden
Website: darkplacemusic.com