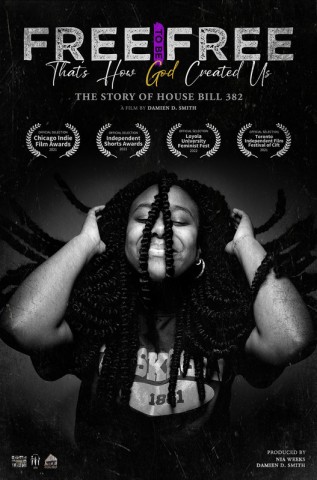 Award-winning actor and filmmaker Damien D. Smith is elated to announce that his short film, "#Free to be Free# That's How God Created Us," is a finalist in the 17th annual Peachtree Village International Film Festival (PVIFF).
PVIFF will be held in Atlanta, GA, from the 3rd to the 6th of November. The screening will take place on Friday, Nov. 4th at 6:50 p.m. EST at the Hyatt Regency Hotel, 4000 Summit Blvd, Atlanta, GA 30319.
Speaking about the movie's plot, Damien said: "Black Women all speak Black Hair. Despite its unique beauty, the heavy social, economic, and health implications that many Black Women face regarding their hair has led to the need to pass ordinances and Bills across Louisiana that protect those who choose to wear our Black hair in a natural hairstyle. Free to Be Free spends time listening to Black Women and Girls throughout the state honoring each of their personal journeys while joyously weaving together collective shared experiences."
Award-winning actor and filmmaker Damien D. Smith is a lifelong storyteller. With experience in theatre, television, and film, Smith is driven by both a responsibility to shed light on injustice and oppression and a deep-rooted passion for community, faith, and social activism. Filmmaker Damien D. Smith is not just an award-winning writer/director; he's also the founder and Creative Director for 4910 Rosalie Productions and Co-Founder of Detangled.
Smith's solo ventures and social justice collaborations fuel his passion. Through art, he uses the camera to tell powerful stories to inspire and provoke change. His most recent documentary, Target: St. Louis Volume 1, has been named the Best Documentary Feature Winner at the 2021 Urban World Film Festival.
The Peachtree Village International Film Festival is an international film, music, and tech festival featuring some of the world's Best-In-Class indie and mainstream content. With cash prizes and various awards up for grabs, the festival highlights feature-length films, shorts, music videos, documentaries, and screenplays from around the globe, empowering creatives by offering contracts and distributions.
PVIFF's website is www.pviffatl.com.
Media Contact
Company Name: Damien D. Smith
Contact Person: Nia Weeks
Email: Send Email
Phone: 352-328-9237
Country: United States
Website: https://www.pviffatl.com/