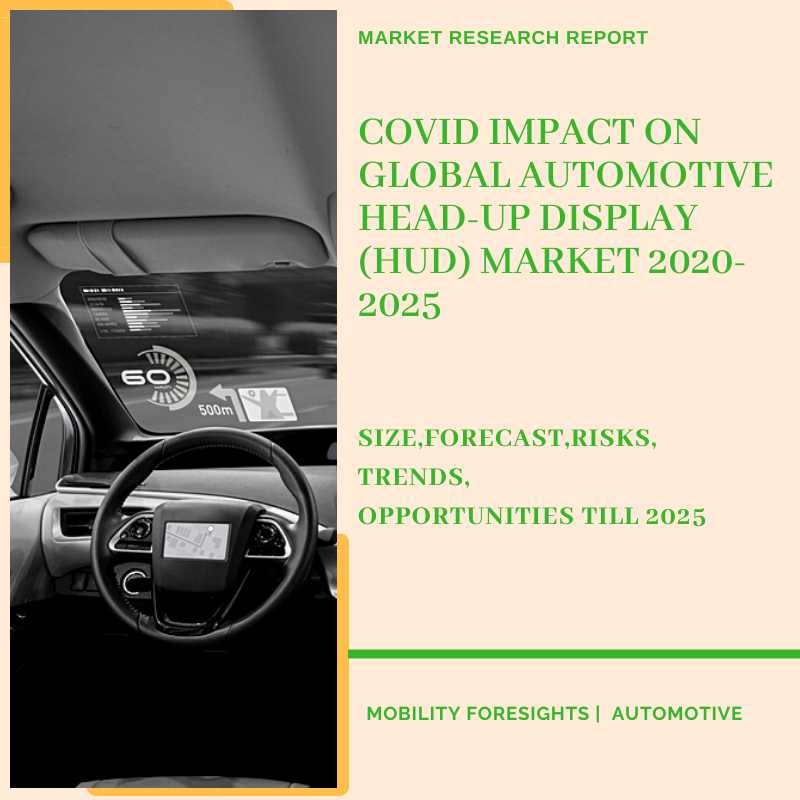 COVID-19 is expected to have a detrimental impact on Global auto production due to both Production and demand constraints but HUD fitment will remain relatively unaffected.
About 21% of new car sales in Europe per annum are attributed to Premium brands (BMW, Mercedes, Audi, Volvo etc), world`s highest.
Continental is the leading supplier earlier primarily to multiple BMW name plates and now to many OEMs. HUD is now available on 15 BMW models.
In US the top 2 Japanese OEMs in US (Toyota and Honda) don't offer HUD on many vehicles even as an option.
Among high selling Japanese Sedans, only Toyota Camry and Honda Accord get it on the top trim. Nissan is yet to provide HUD on it`s best-selling sedans and crossovers even as an optional package.
Download sample- https://mobilityforesights.com/product/automotive-head-up-display-hud-market/
China, although in a decline for past two years when volumes picked in 2016 at 25 Million passenger cars, it is still world`s biggest auto market since 2010. About 8% of new cars sold belong to premium brands.
Hyundai Mobis announced in Feb 2020 that it was all set to enter global head up display market. So far it has been supplying to Hyundai`s premium Genesis brand with its 12 inch HUDs.
Head up Display is still a very Premium feature in India. Many mid and high segment cars still don't have it and HUD can be found only on some of the Premium cars which have less than 1% share of new car sales in India.
Denso( a long term supplier to Toyota) developed world`s biggest head-up-display in 2017 when it launched its 24 inch HUD on 2018 Lexus LS.
Download sample- https://mobilityforesights.com/product/automotive-head-up-display-hud-market/
COMPANY PROFILES
Continental AG
Bosch Mobility Solution
Pioneer Corporation
Yazaki Corporation
Denso Corporation
Nippon Seiki
Hyundai Mobis
THIS AUTOMOTIVE HEAD-UP DISPLAY (HUD) MARKET REPORT WILL ANSWER FOLLOWING QUESTIONS
Automotive Head-Up Display (HUD) Market size and Forecast , by region, by application
Average B-2-B price for Automotive Head-Up Display (HUD) Market, by region, per user
Technology trends and related opportunity for new Automotive Head-Up Display (HUD) Market tech suppliers
Market share of leading vendors, by region,
Coronavirus impact on Automotive Head-Up Display (HUD) Market earnings
Media Contact
Company Name: Mobility Foresights
Contact Person: Kunal Roy
Email: Send Email
Phone: +1-315-675-4056
Address:HAL 2nd stage 204,56/2
City: Bangalore
State: Karnataka
Country: India
Website: https://mobilityforesights.com/