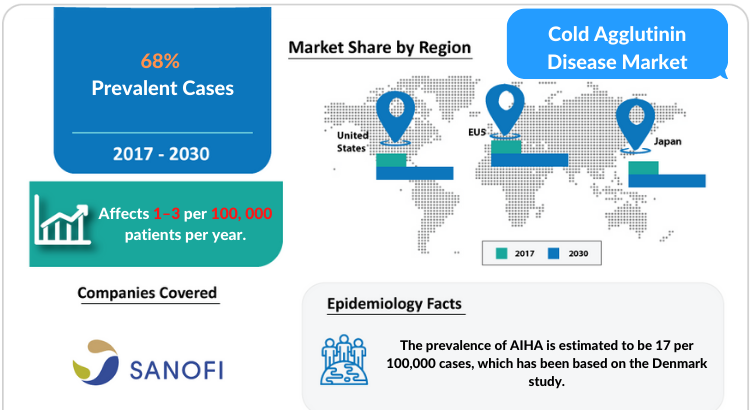 A detailed review of the historical and forecasted Cold Agglutinin Disease market is included in the report, covering drug outreach in the 7MM countries. The report provides an edge while developing business strategies, by understanding trends shaping and driving the global Cold Agglutinin Disease (CAD) market.
Cold Agglutinin Disease Overview
Cold agglutinin disease (CAD) is an uncommon autoimmune hemolytic anemia in which a well-defined, clonal low-grade lymphoproliferative disorder of the bone marrow results in erythrocyte destruction mediated by the classical complement pathway. It is mediated by cold agglutinins (CA), without any underlying disease such as aggressive lymphoma, other overt malignancies, or specific infections. CA are able to agglutinate red blood cells (RBC) at an optimum temperature of 3–4°C, but are also active at higher temperatures, depending on the thermal amplitude. Symptoms get worse in cold weather.
Download Sample here– Cold Agglutinin Disease Market Report
Some of the key highlights of the Cold Agglutinin market report
A large series of CAD cases where the study identified that 68% of cases belongs to primary CAD and 32% belong to secondary CAD.
A prevalence of 16 cases per million and an incidence rate of 1.0 CAD case per million people per years.
According to DelveInsight's analysis, CAD frequency is usually more in females than in males. The male to female ratio is around 45:55.
Cold Agglutinin Disease Market Insights
The current therapeutic market of CAD is dominated by non-pharmacological (cold avoidance) and pharmacological management. Corticosteroids, Alkylating agents, Purine nucleoside analogs and majorly Biologics, such as Rituximab monotherapy or combination therapy (Fludarabine and Rituximab, Bendamustine and Rituximab) and others are the major therapeutic line of treatment for CAD. Folic acid supplements are advisable to meet the demand for increased red blood cell production in the bone marrow. Other treatment options, such as Transfusion are also used.
Cold Agglutinin Disease Treatment
The treatment scenario in the United States and Europe is similar to Japan. There are no approved therapies available for the treatment of cold agglutinin disease and current treatment landscape is filled with the evidence-based treatment. The CAD market is filled with the paucity of the disease understanding, limited epidemiological studies, and limited therapeutic options.
There is need to establish effective treatments and they should be patient-specific, including age and comorbidities. However, high unmet need is there to establish the suitable diagnostic criteria and increase knowledge of the clinical features seen in many patients may help increase doctors' awareness and facilitate correct diagnosis.
Cold Agglutinin Disease Market Companies
Sanofi
Apellis Pharmaceuticals/Swedish Orphan Biovitrum
Novartis
Cold Agglutinin Disease Market Report Highlights
In CAD, self-reactive antibodies called cold agglutinins mistakenly attack red blood cells at low temperatures. The binding of these antibodies can activate the complement cascade — part of the immune system that normally helps protect the body against invading microbes — resulting in red blood cell destruction (hemolysis).
For More Information– Cold Agglutinin Disease Market Insights
Table of content
1. Key Insights
2. Executive Summary of Cold Agglutinin Disease (CAD)
3. Competitive Intelligence Analysis for Cold Agglutinin Disease (CAD)
4. Cold Agglutinin Disease (CAD): Market Overview at a Glance
5. Cold Agglutinin Disease (CAD): Disease Background and Overview
6. Patient Journey
7. Cold Agglutinin Disease (CAD) Epidemiology and Patient Population
8. Treatment Algorithm, Current Treatment, and Medical Practices
9. Unmet Needs
10. Key Endpoints of Cold Agglutinin Disease (CAD) Treatment
11. Marketed Products
12. Emerging Therapies
13. Cold Agglutinin Disease (CAD): Seven Major Market Analysis
14. Attribute analysis
15. 7MM: Market Outlook
16. Access and Reimbursement Overview of Cold Agglutinin Disease (CAD)
17. KOL Views
18. Market Drivers
19. Market Barriers
20. Appendix
21. DelveInsight Capabilities
22. Disclaimer
23. About DelveInsight
Cold Agglutinin Disease Emerging Therapy
The dynamics of the Cold Agglutinin Disease market is anticipated to change during the forecast period, owing to the expected launch of Complement pathway inhibitors. Key players, such as Sanofi, Apellis Pharmaceuticals, Swedish Orphan Biovitrum, Novartis, Incyte Corporation, Kezar Lifesciences, and others are involved in the development of therapies for the treatment of CAD patients. The projected introduction of these drugs might get an advantage in market space due in course.
About Delveinsight
DelveInsight is a Business Consulting and Market research company, providing expert business solutions for the life science vertical and offering quintessential advisory services in the areas of R&D, Strategy Formulation, Operations, Competitive Intelligence, Competitive Landscaping, and Mergers & Acquisitions.
Contact Us
Yash
info@delveinsight.com
Media Contact
Company Name: DelveInsight Business Research LLP
Contact Person: Yash Bhardwaj
Email: Send Email
Phone: +919650213330
Address:304 S. Jones Blvd #2432
City: Las Vegas
State: NV
Country: United States
Website: https://www.delveinsight.com/