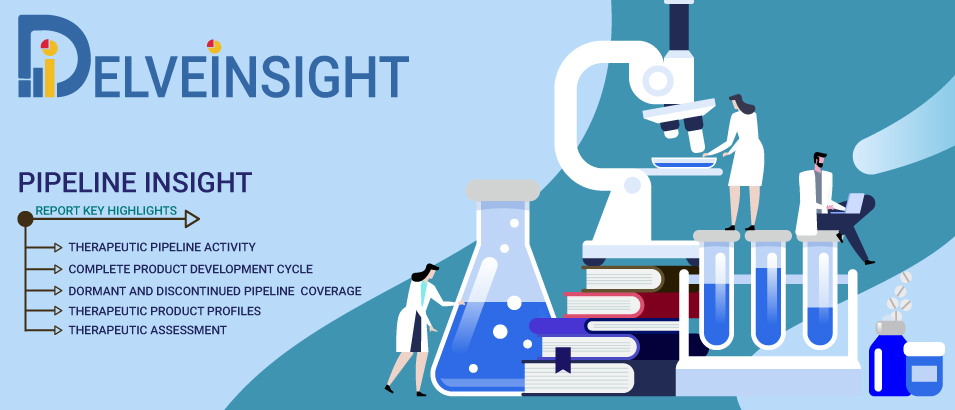 Pancreatic Cancer Overview
Pancreatic cancer begins when abnormal cells in the pancreas grow and divide out of control and form a tumor. Pancreatic tumors are either exocrine or neuroendocrine (endocrine) tumors. This is based on the type of cell they start in. Knowing the type of tumor is important because each type acts differently and responds to different treatments. About 93% of pancreatic cancers are exocrine tumors. The most common type of pancreatic cancer is adenocarcinoma. About 7% of pancreatic tumors are neuroendocrine tumors (pancreatic NETs or PNETs), also called islet cell tumors. They often grow slower than exocrine tumors. A pancreatic tumor can only be seen on an imaging study such as computed tomography (CT) scan, magnetic resonance imaging (MRI) or endoscopic ultrasound (EUS). Pancreatic cancer treatment depends on the stage of the disease and the patient's general health.
Pancreatic Cancer Pipeline Insights
DelveInsight's, "Pancreatic Cancer Pipeline Insight, 2021," report provides comprehensive insights about 100+ companies and 100+ pipeline drugs in the Pancreatic Cancer pipeline landscape. It covers the pipeline drug profiles, including clinical and non-clinical stage products. It also covers the therapeutics assessment by product type, stage, route of administration, and molecule type. It further highlights the inactive pipeline products in this space.
Download a sample- Pancreatic Cancer Pipeline Insights
Pancreatic Cancer Symptoms
Patients with adenocarcinoma of pancreas typically present with: Painless jaundice (70%) usually due to obstruction of the common bile duct from the pancreatic head tumor, Abdominal pain, Weakness, pruritus from bile salts in the skin, anorexia, palpable, non-tender, distended gallbladder, acholic stools, and dark urine, recent-onset of diabetes, Blood clots in the body, Itchy skin and nausea and vomiting.
Pancreatic Cancer Diagnosis
Multidetector computed tomography, MDCT, is the best imaging modality to diagnose and evaluate the extent of disease including perivascular extension and distant metastasis. MDCT is 77% accurate in predicting resectability and 93% accurate in predicting unresectability. PET CT scan can be useful in detecting distant metastatic disease. Abdominal MRI /MRCP with IV contrast is as good in the preoperative evaluation of pancreatic cancer and the assessment of vascular invasion. ERCP with endoscopic ultrasound can be performed, and fine needle aspiration biopsies can be done of suspicious lesions for the pathologic specimen. Endoscopic retrograde cholangiopancreatography (ERCP) is a test in which a contrast dye is injected into the biliary ducts and pancreatic duct with an endoscope. The level of biliary or pancreatic obstruction can be delineated.
The current treatment options for pancreatic cancer are surgery, radiation therapy, chemotherapy, targeted therapy, and immunotherapy. Neoadjuvant first approach in resectable pancreatic adenocarcinoma is to receive chemotherapy. There is a role for radiation therapy in combination with chemotherapy to treat locally advanced pancreatic cancer. The two main regimens used are FOLFIRINOX and gemcitabine plus protein-bound paclitaxel. Opioids, antiepileptics, and corticosteroids all are effective for pain relief in pancreatic cancer.
Pancreatic Cancer Companies
Rafael Pharmaceuticals
AB Science
Syncore Biotechnology
Acerta Pharma
Tyme Technologies
And many others
Pancreatic Cancer Emerging Drugs
CPI-613 (devimistat): Rafael Pharmaceuticals
Masitinib: AB Science
EndoTAG-1: Syncore Biotechnology
Acalabrutinib: Acerta Pharma
SM-88 (racemetyrosine): Tyme Technologies
Pamrevlumab: FibroGen
For More Information- Pancreatic Cancer Pipeline Report
Table of content
Introduction
Executive Summary
Pancreatic Cancer: Overview
Pipeline Therapeutics
Therapeutic Assessment
Pancreatic Cancer – DelveInsight's Analytical Perspective
In-depth Commercial Assessment
Pancreatic Cancer Collaboration Deals
Late Stage Products (Phase III)
Pamrevlumab: FibroGen
Mid Stage Products (Phase II)
Acalabrutinib: Acerta Pharma
Early Stage Products (Phase I)
RP72: Rise Biopharmaceuticals
Inactive Products
Pancreatic Cancer Key Companies
Pancreatic Cancer Key Products
Pancreatic Cancer- Unmet Needs
Pancreatic Cancer- Market Drivers and Barriers
Pancreatic Cancer- Future Perspectives and Conclusion
Pancreatic Cancer Analyst Views
Pancreatic Cancer Key Companies
Appendix
About DelveInsight
DelveInsight is a Business Consulting and Market research company, providing expert business solutions for life science vertical and offering quintessential advisory services in the areas of R&D, Strategy Formulation, Operations, Competitive Intelligence, Competitive Landscaping, and Mergers & Acquisitions.
Contact Us
Yash
info@delveinsight.com
Media Contact
Company Name: DelveInsight Business Research LLP
Contact Person: Yash Bhardwaj
Email: Send Email
Phone: +919650213330
Address:304 S. Jones Blvd #2432
City: Las Vegas
State: NV
Country: United States
Website: https://www.delveinsight.com/