Irvine, CA – July 29, 2021 – Circuit Assembly is pleased to announce the addition to its management team, Russell Lloyd who will take up the position as the new production manager. Mr. Lloyd's expertise and experience will be an asset to the company going forward, especially in overseeing the department of domestic production operations.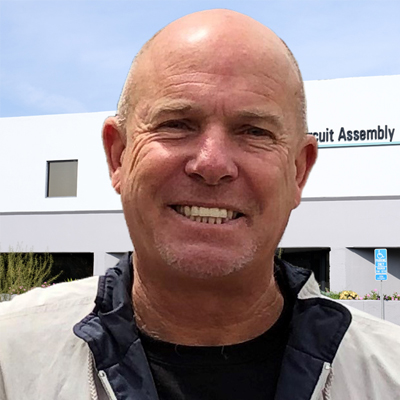 Mr. Lloyd has been actively engaged in training and managing large teams for the tenure of his career. At his former work positions, his role as a manager has helped him develop a knack for building high employee morale by supporting a healthy business culture. He holds the ability to communicate clearly at a different level of peers, top-level executives, customers, and with all stakeholders.
"Circuit Assembly is very excited to welcome Russell to our team. Not only will he bring a tighter focus on product delivery and quality to our production team, but also be a great role model for our employees and vendors who come into contact with him," said Tim Carter, Director of Global Operations for Circuit Assembly.
For over two decades, Mr. Lloyd has been a significant contributor at several ventures: Ingram Micro, International Rectifier, Ross Stores, Thales Avionics, and Safran, from 1996 to 2020. As an operations Manager, Mr. Lloyd's portfolio includes overseeing a 10,000 sq. ft. building and a budget of $14 million. He was responsible for managing fourteen people and has successfully closed a $2 million budget at a facility in El Segundo, later moving and opening another facility in Whales. Here again, he managed a 250,000 sq. ft. of mezzanine with a branch of 300 employees, with operations processing from 70,000 to 1.1 million items per day.
Russell's bachelor's degree in Business Administration has enabled him to help many companies acquire their ISO900 certification by writing work instructions and offer efficient training for their employees.
"Russell is skilled in overseeing production operations and processes and excels at developing staffing plans to ensure production optimization and standards' compliance. He is a leader in starting regular developments, evolving facility requirements, and generating schedules to meet the customers' needs", says a spokesperson for Russell Lloyd.
Circuit Assembly has over fifty years of experience in design and production. Roger Lang and his brother Kermit Lang started Circuit Assembly with the goal to design and manufacture world-class connectors. The company has continued to see success by growing into a large ever-growing organization. The employees at Circuit Assembly have been a part of the company family for a minimum of 7 years. The team works with a unified goal of treating the customers like family and working endlessly to create the best top-quality products in the industry.
For more information, please visit: www.circuitassembly.com
Media Contact
Company Name: Circuit Assembly
Contact Person: Mark Braunstein
Email: Send Email
Phone: 949.521.7233
State: CA 92618
Country: United States
Website: https://www.circuitassembly.com