The Symphony of Barks and Wagging Tails Has a New Conductor in Town. Savanah Lammers Brings a Fresh Perspective and An Unrivaled Passion to The Dog Training Realm in Boca Raton
BOCA RATON, FL – In the sunlit expanse of Boca Raton, dogs of all breeds and sizes are getting a new lease on life. Enter Canine Coaching LLC, a culmination of modern methods, fervent passion, and decades-long expertise, all under the expert guidance of Savanah Lammers. While most see dog training as just commands and treats, Savanah believes it's an art form; a harmonious dance between trainer, dog, and owner.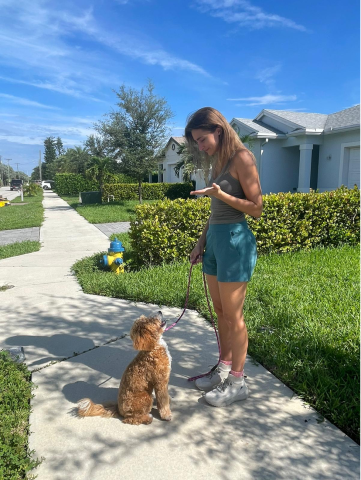 Boca Raton's bustling dog-loving community had been in the search for something – a training philosophy that respects the unique bond between a dog and its human. Savanah Lammers, sensing this pulse, founded Canine Coaching LLC to bridge the gap and raise the bar. "Every dog has a story," Savanah often says, her eyes lighting up with genuine warmth, "and it's our job to listen, understand, and craft a training approach that respects that individuality."
What's more? The picturesque surroundings of Boca Raton provide an impeccable backdrop to the training sessions. Imagine the azure skies, lush landscapes, and your dog leaping joyfully, responding to commands, not out of fear, but pure love.
Ah! But the burst of innovation doesn't stop at the training methods. Canine Coaching LLC pioneered by Savanah also offers personalized programs that range from basic obedience for the playful puppy to advanced training for older dogs. "Want to have a pleasant walk with your pooch without being yanked around? Or perhaps you want to mold your pet into a refined canine citizen? Savanah's got you covered." With Canine Coaching LLC, training is not about creating submissive pets, but forging relationships built on mutual respect and understanding.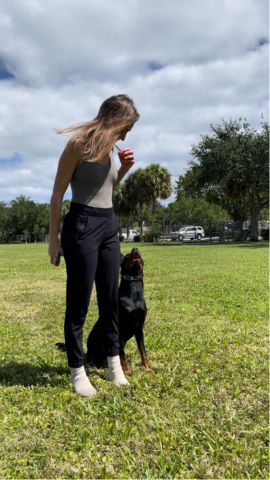 Dive a bit deeper, and discover Savanah's story just as inspiring. A lifelong animal lover, she transformed her passion into a profession with a mission – to provide dogs and their human companions the gift of understanding. "In the end, we're all learners," Savanah quips, "be it dogs or humans. We're here to understand each other better and live harmoniously."
Local residents are raving about their experiences. Janet & Steve B, Boca Raton locals, had this and much more to say, "Scooter is a 4 1/2 year old Labradoodle, who is the most lovable dog we have ever owned! We welcomed Scooter to our home when he was 11 weeks old. Although he was matched to us as the "calm" puppy of the litter, he was hardly that! Of course, as a puppy, this was not surprising. However, as Scooter grew and matured, he continued to be very difficult and disobedient. That is, until we were referred to Savanah, and she worked her magic…"
For those nestled in the Boca Raton area of South Florida, seeking an innovative, compassionate, and effective approach to dog training, look no further. "Let your dog embark on a journey where every bark, wag, and leap counts."
For those who can't make it in person or prefer the comfort of their homes, Canine Coaching LLC also presents the perfect solution. Virtual training offers a chance to connect with Savanah Lammers, the expert herself, without the boundaries of distance.
For more information and to book a session visit https://mycaninecoaching.com.
Media Contact
Company Name: My Canine Coaching LLC
Contact Person: Savannah Lammers
Email: Send Email
Phone: +1561-808-4890
Country: United States
Website: https://mycaninecoaching.com/