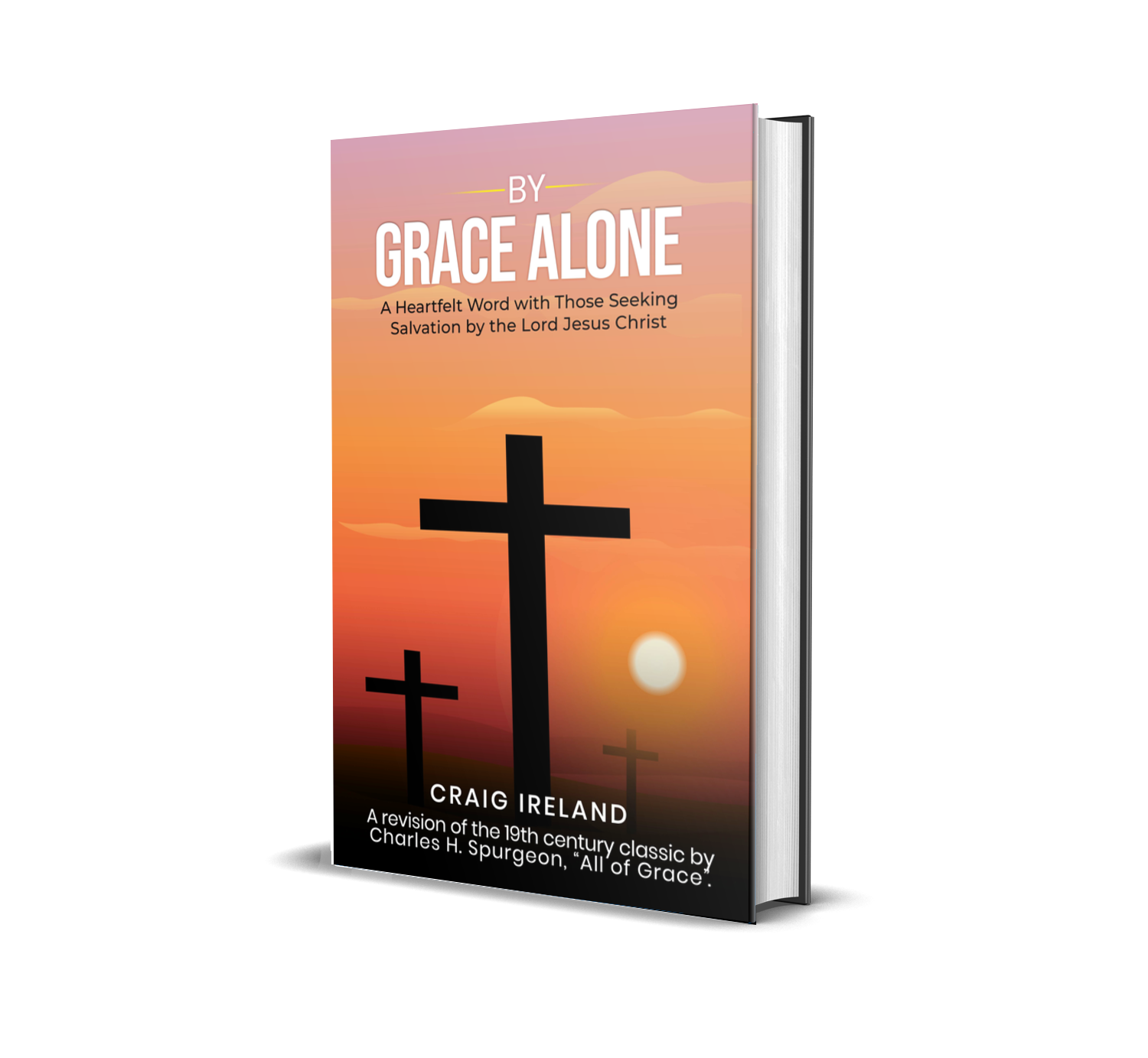 Kharis Publishing today announces the release of "By Grace Alone: A Heartfelt Word with Those Seeking Salvation"(ISBN: 978-1637461709) by Craig Ireland, Grace is the divine term that magnifies mercy, love, and goodness, pummels man's pride and arrogance and comforts the saint in his deepest sorrows.
CHICAGO, Ill. – "All of Grace" was written by Charles Spurgeon and has been dearly loved and embraced by generations since its first release in 1885. More importantly, this book has drawn tens of thousands of people to embrace the Gospel.
Spurgeon's "All of Grace" was his attempt at writing a small and accessible book engaging unbelievers with the claims of Jesus. This book you now hold is a humble attempt to give Spurgeon's original work a new lease on life. This revision is not an attempt to improve Spurgeon's airtight logic, his incisive argumentation, or the flow of his thought. This revision attempts to modernize some of the antiquated language and sentence structure. It is more than just a gospel presentation; it has biblical wisdom and encouragement for all believers. Because of its significant impact, this book deserves a fresh lease on life and demands to be thrust back into widespread circulation. This revision is a humble attempt to realize that goal.
Video Link: https://www.youtube.com/embed/2Rqq6-P6EbI
According to Dr. Dustin Benge Associate Professor of Biblical Spirituality and Historical Theology at The Southern Baptist Theological Seminary, Louisville, KY, "God's sovereign, unmerited grace is what Charles H. Spurgeon delighted in and loved to extol in every sermon, book, and conversation. The heart of Spurgeon's All of Grace is the wonder of grace being lavished upon undeserved sinners and how it can be appropriated to transform our lives. Craig Ireland has done us an excellent service in releasing By Grace Alone, a revised and updated edition of Spurgeon's classic work. I pray that this work will cause a new generation to be reminded of and rediscover the wonder of God's grace to us in Christ."
"By Grace Alone" is published by Kharis Publishing and is now available wherever books are sold, including Amazon: https://www.amazon.com/dp/1637461704/ Retailers and other agencies may order copies from Ingram Content Group or through the publisher (ISBN: 978-1637461709): https://kharispublishing.com/kp/product/by-grace-alone/
Craig Ireland was born in Sydney, Australia, and now resides in Rochester, New York. He is married to Katarina, and they have four children. Craig has earned both a Bachelor's and a Master's degree in Theology and is currently working on his Ph.D.
Craig has served in various ministry roles over the past twenty years. From Church planting, church revitalization, and serving several congregations as Senior Pastor. Craig has also conducted and taught extensively in pastoral training seminars and conferences worldwide, resourcing tens of thousands of church planters among unreached people groups.
About Kharis Publishing:
Kharis Publishing, an imprint of Kharis Media LLC, is a leading Christian and inspirational book publisher based in Aurora, Chicago metropolitan area, Illinois. Our mission is two-fold: 1. Provide an innovative publishing platform for professionals, Christians, pastors, workplace leaders to tell their story and share in a book form what God has put in their hearts, with a focus on under-represented writers (including women and first-time authors); 2. Equip orphans in developing countries with literacy tools. That is why, for each book sold, the publisher channels some of the proceeds into providing books and computers to orphanages in developing countries so that these kids may learn to read, dream, and grow. For a limited time, Kharis Publishing is accepting unsolicited queries for nonfiction (Christian, self-help, memoirs, business, health and wellness) from qualified leaders, professionals, pastors, and ministers. Learn more at: https://kharispublishing.com/
Media Contact
Company Name: Kharis Media LLC
Contact Person: Rufus Philip
Email: Send Email
Phone: (630) 423-6309
City: Aurora, Chicago
State: IL
Country: United States
Website: https://kharispublishing.com/kp/product/by-grace-alone/