The Journey of the First Black Deaf / Hard of hearing Footwear Designer In the world of fashion and design, breaking through barriers and defying stereotypes is a rare feat. Today, we have the honor of introducing you to an extraordinary individual who has shattered both racial and accessibility barriers through her life. Meet Ebony "Geeky" Watson, the first black deaf footwear designer, whose journey is an inspiration to all aspiring designers and beyond.
The Visionary Beginnings:
Growing up as a black deaf / hard of hearing individual, Ebony faced numerous challenges. However, her strong determination and passion for Art / design and engineering technology proved to be her guiding light. From an early age, she was fascinated by computers, Art & Sneakers and the ability to not only compliment one's style but also impact comfort and confidence. Despite facing skepticism and doubt from society, Ebony refused to let anything hold her back. As she mastered the technology field, she landed a job at one of the Fortune 500 companies in the world, Apple as a Technical Specialist / Software Engineering Project Manager in which became her 9 – 5pm. She is Pretty much, a Geek during the day and Creative Director / Footwear Designer at night.
Yet, her passion for footwear has always been in her soul. She knew she had a unique perspective to offer to the world of footwear design and was determined to make her mark.
Overcoming Obstacles:
The journey to success is rarely smooth, and for Ebony, it was no exception. Combining her experiences as a black individual and someone with a profound bilateral hearing loss, she encountered various obstacles while trying to establish herself in the footwear industry. One of the biggest challenges was gaining access and acceptance in an industry dominated by well-established names and established norms. It was also problematic when it came to accommodations as a deaf / hoh individual and the hardship of obtaining & securing an Sign Language interpreter.
Many have shun away with unwillingly to communicate, denied accommodations due to cost, lack of awareness of American Disability Act (ADA) Laws, and doubted her capabilities and questioned if she could thrive as a designer being that she is deaf / hoh.
But Ebony remained steadfast, and did not let the negative experiences hold her back, continued resilience and push herself to refine her craft.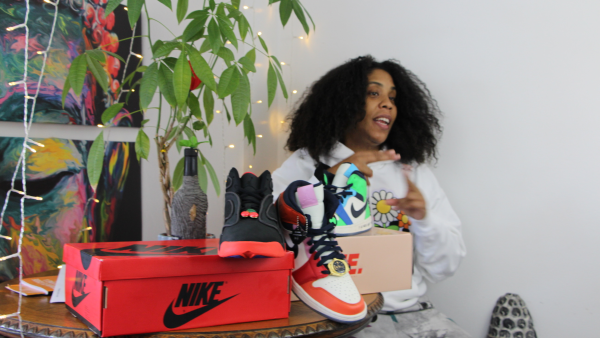 The Breakthrough Moment:
Every success story has its breakthrough moment, and for Ebony, it came when she attended Black Footwear Forum (BFF) at Pensole Lewis College in Detriot, Michigan in 2022. BFF was an exquisite fusion of functionality, style, and cultural influences, which caught the attention of fashion enthusiasts, designers and industry insiders such as April Walker (Walker Wear), Wilson W. Smith III (Nike), Krystal Fortune, Sean Williams (OSD_Paperchasr), Samantha Alvarado, Jazerai Allen-Lord, Sydney G James, Wolf of Wall Sneak, and Eustace Robinson to name a few.
During the workshop, Ebony asked the presenters along with Dr. D'wayne Edwards (Founder of Pensole Lewis College of Business & Design) on how can an individual like herself break the barriers in the footwear industry. Her questions has received widespread acclaim for its bold and innovative approach, but more importantly, it showcased the potential of breaking barriers in the footwear industry. Ebony left a mark on attendees of BFF proving that talent and creativity know no boundaries. This can be found on the Black Footwear Forum 2022 YouTube channel which generated numerous views, feedback and inspired others.
Inspiring the Next Generation:
Being the first black deaf footwear designer, Ebony understands the importance of paving the way for the next generation of designers. She are actively involved in mentorship programs and frequently speak at schools and universities, encouraging aspiring others to pursue their dreams, no matter their background or circumstances.
During her speech, at the Rochester Institute of Technology / National Technical Institute for the Deaf, she made an impact by highlighting the statement, "This world is cruel, unfortunately "Gatekeeping" is a trend these days. With that said, Sometimes you just have to create your own table, otherwise you'll wait your whole life trying to earn a seat at the table." This powerful statement has left the audience in awe, entire auditorium cheered and applauded as they resonated with Ebony.
Her story serves as a beacon of hope for many, proving that diversity and inclusion are not merely buzzwords but essential components of progress and innovation. With her determination, Ebony was awarded a Footwear Creators Scholarship at Pensole Lewis College of Business and Design with Arsutoria Footwear Creation Studio by Foot Locker where she learned the international concepts of sneaker construction, materials cutting, shoe assembling, sewing techniques, sole design and made a Oxford sneaker as a final project which resulted receiving her certification.
Shaping the Future of Footwear:
With the trailblazing success, Ebony has earned a well deserved place among the most influential designers in the industry. Her designs are yet celebrated not only for her aesthetic appeal but also for her commitment to sustainability and comfort. By blending her unique cultural heritage and personal experiences into her creations, Ebony is on her way to create a distinctive brand that resonates with people from all walks of life. Her designs speak to a broader audience, transcending borders and cultures.
Conclusion:
The journey of the first black deaf / hard of hearing footwear designer, Ebony has been nothing short of extraordinary. Through her passion, determination, and creativity, she continues to break down barriers in the footwear industry and have become a symbol of inspiration for countless individuals.
Her story reminds us that innovation thrives when we embrace diversity and challenge conventions. Ebony has not only crafted remarkable footwear but has also left an indelible mark on the hearts of those who dream of a more inclusive and accepting world.
She is currently working on a Footwear design concept of her own, in which will shake the world, and they are not ready for it. It has never been done or made before. In the meantime, she is currently exploring international Footwear design with a plan to take off to Milan, Italy where she can continue expanding her design collection at the Arsutoria Workshop School alongside her professors Paolo Marenghi and Adriana Fagan.
As we move forward, let's celebrate pioneers like Ebony and continue supporting diverse voices in the fashion industry, ensuring that the future is a place where barriers are broken, stereotypes are shattered, and creativity knows no boundaries.
She is an founder of "Sigue Tu Alma", which means "Follow your soul (sole)", a BIPOC program & brand that inspires you to follow your soul, and unleash creativity within. The brand is set to launch in 2024 with materials / clothing ranging from culture and futuristic design.
In addition to the program, She will be teaching footwear design specifically for the BIPOC deaf / hard of hearing community via American Sign Language and Black Sign Language. Now that is something that has never done before! She is an example of a trailblazer & paving the way.
For more information on Ebony "Geeky" Watson, ASL Footwear Design courses, contact / follow via:
Instagram @premiumgeek
LinkedIn: http://linkedin.com/in/ebony-watson-52262568
Media Contact
Company Name: Sigue tu Alma TM premiumgeek LLC
Contact Person: Susie D Sitzer
Email: Send Email
City: New York City
Country: United States
Website: www.thepremiumgeek.com