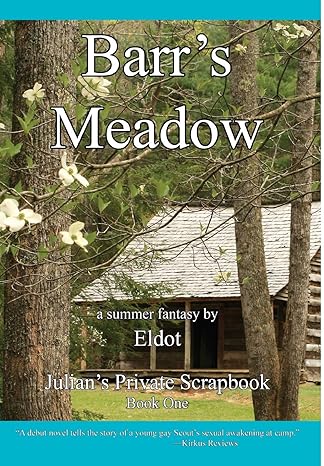 A Coming-of-Age Adventure That Harkens Back to the Summer Camps of 1963
Prepare to embark on an unforgettable journey back to the summer of 1962 with Eldot's novel, "Barr's Meadow: Julian's Private Scrapbook Part One." Promoted anew by Author's Tranquility Press, this coming-of-age story immerses readers in the bygone era when summer camps were filled with youthful exuberance, discovery, and unforgettable experiences.
The book opens a portal to a time before the internet and cell phones, a time when impromptu youthful adventure and exploration required face-to-face interaction. "Barr's Meadow" is a treasure trove of nostalgia for those who lived through the extraordinary world of 1962 and a captivating glimpse for those who missed out.
Julian Forrest, the central character, preserved the memories of his special two week summer camp in two scrapbooks. Until now the "Private Scrapbook" has remained a well-guarded secret; it allows readers to discover the hidden gems and relive cherished memories.
This unique coming-of-age tale brings to life the essence of summer camp—adventure, fun, learning, camaraderie, and a surprise dose of teenage romance. Eldot masterfully captures the era's essence, when human interaction was face-to-face, not screen-to-screen.
For those who missed summer camp, "Barr's Meadow" fills the gap with vivid storytelling. For those whose camp experiences were dull or too brief, the enthralling narrative of this book compensates. And for those too timid to explore everything, Julian's scrapbook provides cherished memories to fill the gap.
"Barr's Meadow" is not a typical coming-of-age drama. It dismisses conventional themes, offering instead a story that focuses on the lighter, comic side of growing up. Eldot invites readers to join the boys of Camp Walker as they frolic, experiment, and discover an array of incredible delightful surprises, fulfilling their fondest dreams.
This captivating tale is intended for mature readers, designed to present present-day social issues from a fresh perspective – the past, brimming with positivity. "Barr's Meadow" is the inaugural installment in a five-novel series that promises more heartwarming and nostalgic adventures.
Don't miss out on this remarkable visit to the summer of 1962. Eldot's book is on Amazon now—be sure to secure your passage to "Barr's Meadow."
About Author's Tranquility Press
Author's Tranquility Press is a top publicity agency known for delivering innovative solutions designed to help writers across genres to reach a wider audience. The company combines the use of the latest technologies and the expertise and diverse experience of the team to provide quality, relatable content to as many people as possible, irrespective of their location across the globe.
Media Contact
Company Name: Author's Tranquility Press
Contact Person: Patricia Adams, Marketing Supervisor
Email: Send Email
Phone: 8664118655
Address:3800 CAMP CREEK PKWY SW BLDG
City: Atlanta
State: GA
Country: United States
Website: www.authorstranquilitypress.com/