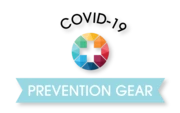 As the COVID-19 pandemic continues to affect the globe in alarming numbers, it's becoming evermore difficult for healthcare providers to procure the necessary personal protective equipment for their frontline workers. In response to this time sensitive, life threatening need, one company has taken it upon themselves to shift focus to supplying masks, sanitizers, and other needed medical gear to help tackle this violent pandemic.
Covid-19 Prevention Gear has made international news this week with the announcement that they will be allocating PPE stock toward donations for hospitals and other agencies working on the frontlines.
Fathered by the 10 year strong powerhouse, House of Ankit, Covid-19 Prevention Gear launched in response to the current Coronavirus pandemic, quickly pivoting resources toward producing high-quality PPE with the backing of FDA certification. As the COVID-19 pandemic began to unfold, it was clear that The House of Ankit was in a unique hinge position globally to lend a heavy helping hand, which is what birthed Covid-19 Prevention Gear as an effective response.
Covid-19 Prevention Gear has positioned itself to fulfill millions of units of safe PPE, while maintaining the lowest possible prices. They've accomplished this all while front-running the effort to donate PPE weekly to centers in dire need.
During a recent press conference, the company spokesperson for Covid-19 Prevention Gear was quoted as saying, "We supply PPE products at factory prices only to hospitals and other agencies, but we didn't want our efforts to stop there. We have donated tens of thousands of units of protective masks, respirators, protective gowns, among other PPE and medical supplies to hospitals in need like American British Cowdray Hospital in Mexico, Gastroclinica Escalon in El Salvador, Levy Mwanawasa University Teaching Hospital in Zambia, and Baylor Scott & White Medical the U.S. to name just a few. It's our hope that we can continue helping in any way we can which is why every week we review cases of hospitals and agencies in need and select one to donate to."
It's clear that Covid-19 Prevention Gear has centered our global community in it's launch and continued practice, which is an important factor for those supplying medically necessary materials especially in this historically unprecedented health crisis.
To nominate your hospital or frontline agency, you can fill out their form here https://www.covid19preventiongear.com/donation
Media Contact
Company Name: Covid-19 Prevention Gear
Contact Person: Amand De Agrella
Email: Send Email
Phone: 9547368221
Address:2385 NW Executive Center Drive
City: Boca Raton
State: Florida
Country: United States
Website: https://www.covid19preventiongear.com