November 16, 2023 – In a remarkable effort to rejuvenate the beekeeping industry and bolster local communities, the Chungbuk Regional Headquarters of the Korea Rural Community Corporation recently, on November 5, 2033, hosted the inaugural Bee Return Campaign event at Bee Land in Goesan, North Chungcheong Province. This groundbreaking event, graced by notable dignitaries and industry leaders, marks a significant milestone in environmental and community initiatives.
Approximately 40 distinguished guests, including National Assembly member Park Deok-heum, Chungcheongbuk-do Assemblyman Lee Tae-hoon, Goesan Deputy County Governor Ban Ju-hyeon, and Chungbuk branch president of the Korean Beekeeping Association Ban Hwa-byeong, convened to support this vital cause.
The event, which was held for the first time at a regional level, included the donation of 1,000 shares of commemorative planting and wheat raw water, including hovenia trees for bees to rest on, as well as the donation and installation of beehives in Bee Land to improve the income of beekeepers, including saving the initial capital of beekeeping.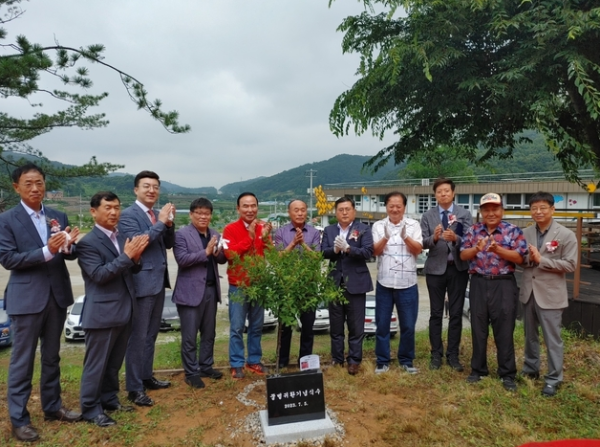 This campaign focuses on enhancing the livelihoods of beekeepers by reducing initial capital costs and improving income potential through sustainable practices.
The collaboration between the corporation, local government, and beekeeping associations promises a sustainable model, benefiting not only the beekeeping industry but also the local communities through profit sharing.
Throuhg this agreement, the Korea Rural Community Corporation, Goesan-gun, Korea Beekeeping Association, and Bee Land Cooperative have come together in a pledge to support the vulnerable in the local community with the proceeds from collectively harvested honey.
Shin Hong-seop, head of the Chungbuk Regional Headquarters, emphasized the ongoing commitment to the beekeeping industry and the community, stating, "Even if today's event ends, the bee return campaign will develop the beekeeping industry and create a virtuous cycle of honey profits to support the vulnerable in the community." He went further to attendees of this notable even. "Thank you for attending the bee return event promoted by the Corporation."
The Bee Return Campaign at Goesan Bee Land is more than just an environmental initiative; it represents a commitment to sustainability, community welfare, and the future of the beekeeping industry. As this campaign unfolds, it holds the promise of creating a harmonious balance between nature and human livelihood, setting a benchmark for similar initiatives worldwide.
Media Contact
Company Name: Goesan Bee Land
Contact Person: Andy Hong
Email: Send Email
Country: South Korea
Website: www.goesanbeeland.com