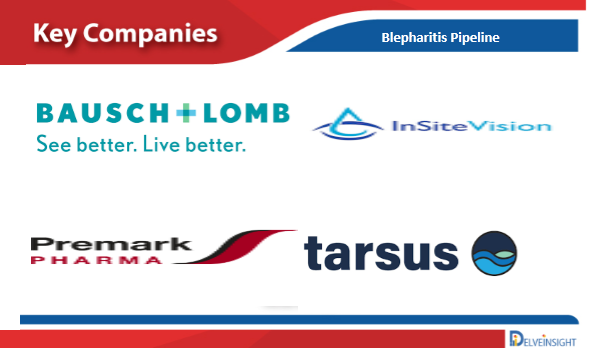 DelveInsight has launched a new report on Blepharitis Pipeline
"Blepharitis is an inflammation of the eyelids in which they become red, irritated, itchy, and dandruff-like scales form on the eyelashes". It is a chronic external eye disorder resulting in red, burning, and irritated eyes which does not cause serious damage to the eyes, but it can be very uncomfortable. It can be caused by either bacteria or a skin condition, such as dandruff of the scalp or rosacea.
Browse for free sample copy- https://www.delveinsight.com/sample-request/blepharitis-pipeline-insight
Blepharitis Pipeline analysis across different stages of development (Phase III & Phase II), different emerging trends and comparative analysis of Blepharitis pipeline products with detailed clinical profiles, key cross -competition, launch date along with product development activities.
Blepharitis Pipeline
Blepharitis on the basis of anatomic location is of three types: Anterior Blepharitis, Posterior Bepharitis, and Mixed Anterior and Posterior Blepharitis. Anterior Blepharitis affects the front of the eyelids around the eyelashes and may be due to seborrhoeic dermatitis, may also involve the scalp, face and ears, or be due to bacterial (staphylococcal) infection. Posterior Blepharitis mainly affects the back of the eyelids, around the Meibomian glands, often associated with rosacea. Mixed anterior and posterior blepharitis is a combination of both anterior and posterior blepharitis.
Emerging therapies included in the report
PMP2207: Premark Pharma
Zylet: Bausch and Lomb
TP-03: Tarsus Pharmaceuticals
Fluticasone Propionate: Nicox Ophthalmics
Blepharitis Treatment
Early diagnosis and appropriate treatment can prevent disfigurement and may be lifesaving for this condition. A paradigm shift appears to be occurring in the treatment of Blepharitis. Whereas traditionally warm compress therapy and antibiotic ointment application have been the mainstays of treatment, however, many clinicians are now using prescription antibiotic therapy, as a treatment foundation. Targeting the important pathologic factors- bacteria, inflammation, and meibomian gland dysfunction- is critical to the successful management of Blepharitis.
Blepharitis Report Scope
The Blepharitis report provides an overview of therapeutic pipeline activity and therapeutic assessment of the products by development stage, product type, route of administration, molecule type, and MOA type for Blepharitis across the complete product development cycle, including all clinical and nonclinical stages.
It comprises of detailed profiles of Blepharitis therapeutic products with key coverage of developmental activities, including technology, collaborations, licensing, mergers and acquisition, funding, designations and other product-related details
Detailed Blepharitis research and development progress and trial details, results wherever available, are also included in the pipeline study.
Coverage of dormant and discontinued pipeline projects along with the reasons if available across Blepharitis.
Browse for free sample copy- https://www.delveinsight.com/sample-request/blepharitis-pipeline-insight
Table of content
1. Report Introduction
2. Blepharitis
3. Blepharitis Current Treatment Patterns
4. Blepharitis – DelveInsight's Analytical Perspective
5. Therapeutic Assessment
6. Blepharitis Late Stage Products (Phase-III)
7. Blepharitis Mid Stage Products (Phase-II)
8. Early Stage Products (Phase-I)
9. Pre-clinical Products and Discovery Stage Products
10. Inactive Products
11. Dormant Products
12. Blepharitis Discontinued Products
13. Blepharitis Product Profiles
14. Blepharitis Key Companies
15. Blepharitis Key Products
16. Dormant and Discontinued Products
17. Blepharitis Unmet Needs
18. Blepharitis Future Perspectives
19. Blepharitis Analyst Review
20. Appendix
21. Report Methodology
What are the report highlights?
A better understanding of disease pathogenesis contributing to the development of novel therapeutics for Blepharitis.
In the coming years, the Blepharitis market is set to change due to the rising awareness of the disease, and incremental healthcare spending across the world; which would expand the size of the market to enable the drug manufacturers to penetrate more into the market.
The companies and academics that are working to assess challenges and seek opportunities that could influence Blepharitis R&D. The therapies under development are focused on novel approaches to treat/improve the disease condition.
A detailed portfolio of major pharma players who are involved in fueling the Blepharitis treatment market. Several potential therapies for Blepharitis are under investigation. With the expected launch of these emerging therapies, it is expected that there will be a significant impact on the Blepharitis market size in the coming years.
Our in-depth analysis of the pipeline assets (in early-stage, mid-stage and late stage of development for the treatment of Blepharitis) includes therapeutic assessment and comparative analysis. This will support the clients in the decision-making process regarding their therapeutic portfolio by identifying the overall scenario of the research and development activities.
Related Reports
Media Contact
Company Name: DelveInsight Business Research LLP
Contact Person: Yash Bhardwaj
Email: Send Email
Phone: +919650213330
Address:304 S. Jones Blvd #2432
City: Las Vegas
State: NV
Country: United States
Website: https://www.delveinsight.com/