AGENDA features Black fashion designers, NAACP Image Awards "Colors Behind the Look," and more in this exciting issue of AGENDA. Melanie Wise, Udo Spreitzenbarth; cover models Coco Mitchell and AGENDA's Fashion Whisperer Ty-Ron Mayes; SHROOMS the cookbook; Aaron Walton, AMATO Couture Menswear runway; Jurassic World Dominion, The 355; and Kaylene Peoples Fashion Talk complete the story of this 151-page book periodical!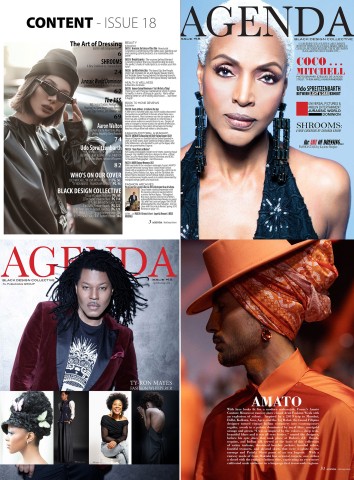 AGENDA has been putting a spotlight on Black design talent since their first feature with Black Design Collective's Co-Founder, TJ Walker of Cross Colours in Issue 10. What followed was Geoff Duran (Issue 11), BDC Founder Angela Dean of Deanzign (Issue 12), Sergio Hudson (Issue 13), OTG Essentials by Keira Banks (Issue 14), Apotts and Epperson (Issue 15), Agnes Bethel Shoes (Issue 16), Renaldo Barnette (Issue 17); and Byron Lars, Octavius Terry-Sims of Groom, and Kevan Hall were all featured in AGENDA Collector's Issue 3: Changemakers. The world was informed that there is a kaleidoscope of "all" colors that make up the artisans behind the clothes we love. After a long hiatus following the release of Issue 17, Couture Paper Doll's, AGENDA's contributing staff helped to create another packed issue, appropriately titled, "Black Design Collective," a nod to this pioneering nonprofit, created to bring awareness, mentor, aid and elevate Black design talent.
Catching up to Issue 18, Black Design Collective, the 151-page book periodical heavily features Black designers, a milliner, beauty brands, and pop-up shops. On the cover is supermodel Coco Mitchell who helped usher in a new generation of Black American models. And on the back cover is celebrity stylist Ty-Ron Mayes, AGENDA's Fashion Whisperer and America's Next Top Model Wardrobe Stylist. Mitchell and Mayes are featured in breathtaking editorials shot by photographers Ezequiel de la Rosa and Udo Spreitzenbarth.
AGENDA interviews Tori Nichel (NBC Fashion Star) of Maison Black, Lisa McFadden Millinery, Byron Lars (Barbie) on his new collection by In Earnest, EPPERSON (Project Runway) and his latest fashion editorial EVOLUTION; and a recap of the NAACP Image Awards fashion event "Colors Behind the Look," headlining with Kevan Hall (president of the Black Design Collective) and BDC designers EPPERSON, Byron Lars, BDC Co-Founder TJ Walker's Cross Colours, and menswear designer Isaiah Hemmingway. Also featured this issue is "Emerge in Color," a curated pop-up store headed by the Black Fashion Movement and Maison Black. This one-of-a-kind shopping event successfully launched at the Beverly Center in Los Angeles.
This intensely diverse issue also includes New York celebrity photographer Udo Spreitzenbarth and his traveling photo exhibition titled "Between Light & Dark"; The Swedish brand, Dagmar's S/S 2022 sustainable collection; and AMATO Couture Menswear collection.
"Immune System Maintenance? Ain't No Such a Thing!" is an article by wellness expert Melanie Wise of Wise Remedies. Sheryl Aronson (Arting Around) interviews Aaron Walton in "From Fashion Icon to Advertising Mogul, the CEO and Co-Founder of Walton Isaacson." Fashion Archives presents a blast from the past with vintage Oscar de la Renta, photographed by Arun Nevader. And book reviewer Zac Baldwin critiques movies made from books, ranging from authors Stephen King to Dean Koontz. Universal Pictures and Amblin Productions presents Jurassic World Dominion and the backstory to the end of an era; and Universal Pictures in Association with FilmNation Entertainment presents The 355, an action film starring Jessica Chastain, Penélope Cruz, and Lupita Nyong'o, now streaming on Prime.
Beauty editor Shahada Karim reviews the products Beautystat, Mented Cosmetics, and Oui the People. And Karim gushes about her new cookbook, SHROOMS, a book filled with "healing" recipes, based on the medicinal qualities of mushrooms.
Fashion Talk was inspired by the film, Mrs. Harris Goes to Paris.
"I just saw the film Mrs. Harris Goes to Paris. The film was set in 1957, about a maid who wants an haute couture dress. The movie triggered so many things in me. I would see a dress on the runway and covet it. Once, I attended a Carolina Herrera fashion show, and I saw this model in a gown that I had to have. To this day, I want that dress! Needless to say, it was way out of my budget. But I got how Mrs. Harris felt. Many of us are Mrs. Harris. That's what high fashion is all about. Giving the fantasy that an outfit could change our lives. And creating a story with clothing, clothing that encompasses all the accessories, much like a finished painting. If Oscar de la Renta was alive today, I'd love to ask what inspired him when he created the perfect dress!" – "The Art of Dressing" by Kaylene Peoples, Fashion Talk
AGENDA Issue 18, "Black Design Collective" is sure to enlighten and entertain. You might heal an ailment, find a cute dress, or even buy a hat and a pair of gloves. But one thing is certain, you're sure to enjoy the read … and don't forget to shop Black! (@agendamag). Visit https://www.agendamag.com/shop/ to subscribe to the digital magazine, and visit klpublishinggroup.com for purchase information for the print edition of AGENDA Issue 18: "Black Design Collective."
Media Contact
Company Name: First Take Public Relations and Consulting
Contact Person: Sean McKenzie
Email: Send Email
Country: United States
Website: https://firsttakepr.com