Uniting Talents, Uproarious Laughter, and Unforgettable Moments Await in This Must-See Cinematic Triumph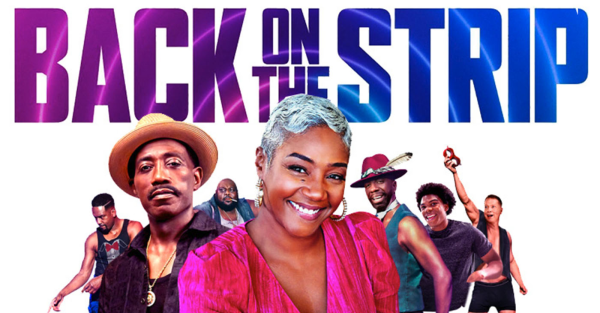 Get ready to embark on a sidesplitting journey as "Back on the Strip" brings its uproarious charm to theaters nationwide on Friday, August 18th. This sensational cinematic offering, which showcases the collaborative brilliance of black talent, promises an unforgettable experience that will leave audiences laughing in stitches.
A Triumph of Black Collaboration:
"Back on the Strip" stands as a testament to the power of collaboration within the black community, both on and off the screen. With a vibrant and iconic backdrop of the Las Vegas Strip, the film unfolds a series of uproarious escapades and misadventures that will have viewers doubled over in laughter.
A Hilarious Cinematic Experience:
Prepare to be swept away by the sheer entertainment value of "Back on the Strip." The film boasts a harmonious blend of humor that effortlessly oscillates between uproarious laughter and touching, heartwarming moments. With its impeccable comedic timing and relatable characters, this movie has all the ingredients to become a timeless classic that resonates with audiences of diverse backgrounds.
As Parnell Gervais, the visionary force behind "Back on the Strip," enthuses, "We wanted to create a film that not only brings joy and laughter but also celebrates the incredible talents within our community. 'Back on the Strip' is a testament to the power of unity and creative collaboration."
A Nationwide Showcase:
"Back on the Strip" is set to dazzle audiences from coast to coast, with premieres slated in both the vibrant city of New York and the entertainment capital of Los Angeles. This nationwide release ensures that the uproarious humor and camaraderie of the film will be accessible to moviegoers across the United States.
Gervais further adds, "We are thrilled to share 'Back on the Strip' with audiences nationwide. The film's universal themes and relatable humor make it a cinematic experience that transcends boundaries and brings people together through laughter."
About Thorough Consulting:
Thorough Consulting stands at the forefront of media and entertainment consultancy, renowned for its exemplary track record of promoting and managing high-profile events, films, and artists. With a dedication to delivering exceptional results, Thorough Consulting has established itself as a key player in the industry, ensuring that projects like "Back on the Strip" receive the spotlight they truly deserve.
Experience the Hilarity:
Don't miss out on the uproarious laughter, heartwarming moments, and memorable performances that "Back on the Strip" has in store. Mark your calendars for August 18th and join us as we celebrate the power of collaboration and the joy of shared laughter.
For exclusive sneak peeks, updates, and more, visit the official website https://thoroughconsulting.com
Media Contact
Company Name: Thorough Consulting
Contact Person: Parnell Gervais
Email: Send Email
Phone: 631.664.4927
Country: United States
Website: thoroughconsulting.com