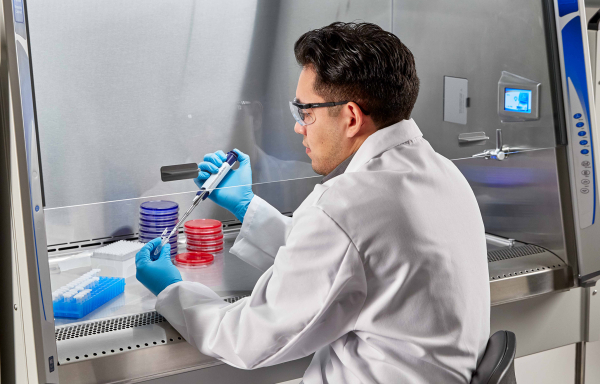 Biological Safety Cabinet Market Size to hit US$ 320.5 Million, Globally by 2027 – Report by IMARCGroup
IMARC Group has recently released a new research study titled "Biological Safety Cabinet Market Share: Global Industry Trends, Size, Growth, Opportunity, and Forecast 2022-2027", offers a detailed analysis of the biological safety cabinet market growth opportunities, trends, and competitive landscape to understand the current and future market scenarios.
What are the growth prospects of the biological safety cabinet industry?
The global biological safety cabinet market size reached US$ 207 Million in 2021. Looking forward, IMARC Group expects the market to reach US$ 320.5 Million by 2027, exhibiting a growth rate (CAGR) of 7.47% during 2022-2027.
What is a biological safety cabinet?
A biological safety cabinet (BSC), or microbiological safety cabinet, is an enclosed, ventilated laboratory workspace designed to protect the surrounding environment and personnel from pathogenic microorganisms. It comprises high-efficiency particulate absorbing (HEPA) filtration systems that decontaminate the air flowing out of the cabinet. Depending on the level of product protection, biosafety cabinets are classified into I, II and III classes. Amongst these, class I and II cabinets are primarily used for the safe manipulation of moderate- and high-risk microorganisms. On the other hand, class III BSCs are ideal for working with hazardous agents with biosafety levels 3 and 4. These workspaces can be customized according to the user preference to obtain optimum control over quality and minimize contamination risks.
Impact of COVID-19:
We are regularly tracking the direct effect of COVID-19 on the market, along with the indirect influence of associated industries. These observations will be integrated into the report.
Request and get a sample brochure for free: https://www.imarcgroup.com/biological-safety-cabinet-market/requestsample
What are the major market drivers in the biological safety cabinet market?
The BSC market growth is majorly being driven by the increasing risks of communicable diseases and the sudden outbreak of coronavirus disease (COVID-19) across the globe. Additionally, significant expansion in the biotechnology and life sciences sectors is further propelling the market growth. Besides this, the rising expenditure in the improvement of healthcare infrastructure and numerous investments in research and development (R&D) by pharmaceutical and biopharmaceutical companies are positively influencing the market growth. Moreover, diagnostic labs and pharmaceutical manufacturers are increasingly utilizing BSCs to maintain the microbiological quality of drugs, which is acting as a growth-inducing factor for the market. Furthermore, the introduction of advanced product variants with improved construction, airflow pattern, velocities and exhaust systems is creating a positive outlook for the market.
Ask Analyst for 10% free customized report: https://www.imarcgroup.com/request?type=report&id=2670&flag=C

Report Segmentation:
The report has segmented the market into the following categories:
Breakup by Type:
Class I
Class II

Class II Type A
Class II Type B

Class III
Breakup by End User:
Pharmaceutical and Biopharmaceutical Companies
Diagnostic and Testing Laboratories
Academic and Research Institutions
By Geography:
North America (United States, Canada)
Europe (Germany, France, United Kingdom, Italy, Spain, Others)
Asia Pacific (China, Japan, India, Australia, Indonesia, Korea, Others)
Latin America (Brazil, Mexico, Others)
Middle East and Africa (United Arab Emirates, Saudi Arabia, Qatar, Iraq, Other)
List of Major Key Players:
Air Science
Berner International
BIOBASE
Esco Micro Pte Ltd
EUROCLONE SPA (AddLife Development AB)
Germfree Laboratories
Kewaunee Scientific Corporation
Labconco
NuAire (Polypipe)
The Baker Company, Inc
Thermo Fisher Scientific Inc
Trending Reports (Book Now with 10% Discount + COVID-19 Scenario):
Genomics Market Trends – Global Industry Share, Size, Growth, Opportunity and Forecast
Human Capital Management Market – Global Industry Trends, Share, Size, Growth, Opportunity and Forecast
Thermoformed Plastics Market Share – Global Industry Trends, Size, Growth, Opportunity and Forecast
Supply Chain Analytics Market Size – Global Industry Trends, Share, Growth, Opportunity and Forecast
Calcium Carbonate Market Trends – Global Industry Share, Size, Growth, Opportunity and Forecast
Metabolomics Market – Global Industry Trends, Share, Size, Growth, Opportunity and Forecast
Medical Billing Outsourcing companies
About Us:
IMARC Group is a leading market research company that offers management strategy and market research worldwide. We partner with clients in all sectors and regions to identify their highest-value opportunities, address their most critical challenges, and transform their businesses.
IMARC's information products include major market, scientific, economic, and technological developments for business leaders in pharmaceutical, industrial, and high technology organizations. Market forecasts and industry analysis for biotechnology, advanced materials, pharmaceuticals, food and beverage, travel and tourism, nanotechnology, and novel processing methods are at the top of the company's expertise.
Media Contact
Company Name: IMARC Group
Contact Person: Elena Anderson
Email: Send Email
Phone: +1-631-791-1145
Address:30 N Gould St Ste R
City: Sheridan
State: WY
Country: United States
Website: https://www.imarcgroup.com