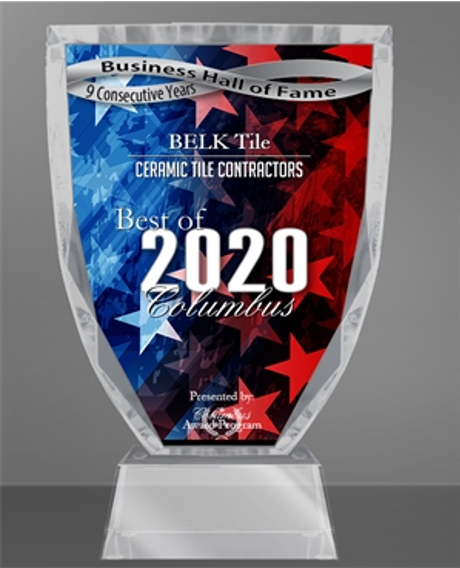 Leading providers of innovative tiling solutions, BELK Tile, wins the 2020 Best of Columbus Award to make it the 9th win in a row
BELK Tile has been selected as the winner of the 2020 Best of Columbus Award in the Ceramic Tile Contractors category. The recent achievement is unprecedented as it makes it the 9th time the company is winning the awards in a row. The annual award is organized by the Columbus Award Program to honor businesses that have excelled in their industry.
BELK Tile has been able to carve a niche in the market as a provider of premium quality yet relatively affordable tiles. Over the years, the company has grown in leaps and bounds, constantly updating their inventory to provide the best possible shopping and tiling experience to clients in Ohio and other parts of the country. Consequently, BELK Tile has become one of the most sought-after providers of tiling solutions across the United States, with the recent Columbus Award further substantiating this position.
The Columbus Award Program is an annual awards program organized to recognize the achievements and accomplishments of local businesses across the Columbus area. Selected companies show the ability to use their best practices and implemented programs to generate competitive advantages and long-term value. Winners are determined based on the information gathered both internally by the Columbus Award Program and data provided by third parties. Consequently, the award has become a prestigious recognition, making BELK Tile's achievement of 9 consecutive wins even more laudable. In a similar vein, BELK Tile has been inducted into the Columbus Award Program Business Hall of Fame.
BELK Tile currently offers an amazing collection of tiles that include WaterJet Marble Mosaic Tiles, Batik Italian tiles, and a host of others to meet the needs of customers.
For more information about BELK Tile and their range of products, please visit – https://www.belktile.com. BELK Tile is also available across several social media platforms, including Facebook, Twitter, and LinkedIn.
About BELK Tile
BELK Tile was founded by Mike Belk to provide people with the style and substance in solutions in homes, offices, and all rental properties by offering them the best tiles in the market without requiring them to break the bank. Headquartered in Ohio, the company has a large catalog of different types of tiles, including ceramic tiles, glass tiles, stone tiles, and metal tiles.
Media Contact
Company Name: BELK Tile
Contact Person: Mike Belk
Email: Send Email
Phone: 614-543-8334
Country: United States
Website: https://www.belktile.com/