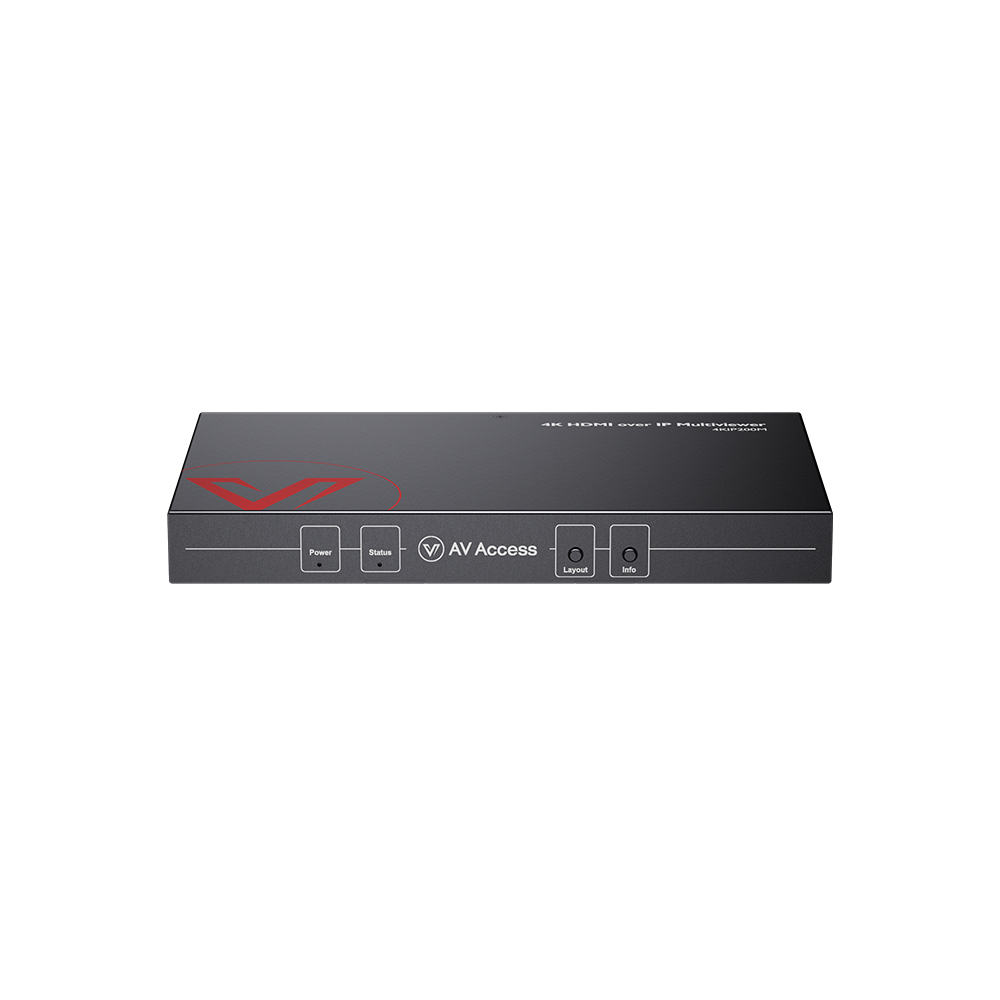 Nowadays, AV over IP solutions have become increasingly popular in sports bar applications. AV Access's brand-new 4KIP200M 4K HDMI over IP multiview processor is plug-n-play and requires no configuration on Ethernet switches, ideal for displaying multiple sources on a single screen in sports bars.
AV Access 4KIP200M 4K HDMI over IP decoder can work with 4KIP200 series encoders to display up to 4 different sources on a single screen, with 4 different layout modes. It is ideal for wide applications like a sports bar, restaurant, shopping mall, etc.
AV Access, a leading provider of Pro AV and AV over IP solutions, recently announced the addition of the 4KIP200M 4K HDMI over IP multiview decoder to the company's AV over IP portfolio. It can work with AV Access 4KIP200E/4KIP204E encoders to display up to 4 video sources on a single screen with different layouts, ideal for sports bars, shopping malls, houses of worship, casinos, etc.
4 Different Layouts, Flexible Viewing Experience
The 4KIP200M 4K multiview processor supports 4 layout modes, including single view, picture-in-picture, vertical triple view, and quad view. When in auto switching mode, it can automatically select a layout mode for an optimal view, based on the number of encoders in the same network. Users can also manually select one layout mode with the front layout selection button or the "VDirector" control App.
"Among the 4 layout modes, the unique vertical triple view mode is quite useful for vertical screen installation scenarios, like digital signage, advertising and sports games," explained Bill Liao, CTO of AV Access.
Plug-n-Play & Budget-Friendly Solution
Like other 4KIP200 series encoders/decoders of the same category, the 4KIP200M multiview decoder can work flawlessly with universal managed and unmanaged Ethernet switches on the market. Users don't need to configure IGMP to build an IP matrix. They can effortlessly complete installation, even if they were not exposed to any IP knowledge before.
What's more, with the intuitive and user-friendly "VDirector" App, users can build a distributed IP matrix with video walls, just on their palms.
"With its integrated design, 4KIP200M can greatly simplify your installation and save more space. Compared with 4x 4KIP200D decoders, it also saves you more cost. Now 4KIP200M AV over IP decoder is only priced at $629.30 on our official site, with a 30% discount for pre-sale. It is a must-have for displaying multiple sources on a single screen in your sports bar," added Bill.
About AV Access
AV Access is the world's professional manufacturer of advanced Pro AV and AV over IP products, which include extenders, splitters, switchers, matrixes, AV over IP codecs, etc. Since establishment, it has long been our mission to offer ultimate audiovisual experience to the masses by delivering quality-assured and well-designed AV products at honest pricing. We will continue to develop more innovative products and solutions in the fields of smart home, corporate, education, retail, entertainment, health care, etc. Strong R&D, powerful supply chain and excellent management team make AV Access be qualified as your faithful partner!
Learn more by visiting www.avaccess.com
Media Contact
Company Name: Actions Global (US) Inc
Contact Person: Shane Jiang
Email: Send Email
Phone: +1-866-629-3923
Address:100 N HOWARD ST STE R
City: City of Spokane
State: Washington 99201
Country: United States
Website: https://www.avaccess.com/