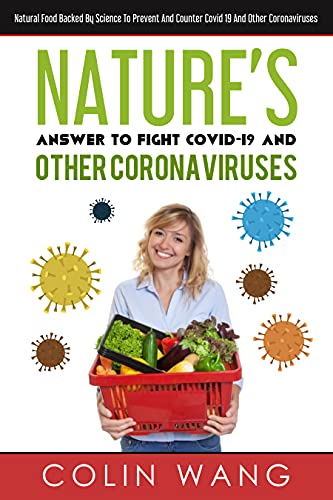 The recently published "Nature's Answer To Fight Covid-19 And Other Coronaviruses: Natural Food Backed By Science To Prevent And Counter Covid-19 And Other Coronaviruses" is the latest book by the author Colin Wang. The kindle version of the book is available now on Amazon.
Colin Wang's work is a detailed and well-researched book that talks about the food items that are good for building a strong immunity and which will help to protect the body from the novel Coronavirus. This book focuses on the nutritional status a body must achieve and maintain to fight Covid-19.
Colin Wang's book is a treasure trove of information on the right diet that will strengthen the immunity and fight the Coronavirus. It lists down the various natural food items that have been scientifically proven to prevent and counter Covid-19.
When asked about his book, Colin Wang said, "Optimal nutrition and dietary nutrient intake have an impact on the immune system, and strengthening the immune system is the only long-term way to survive in the current environment".
The global pandemic has made everyone more health conscious than before. Covid-19 weakens the immunity and it takes a long time for the body to completely recover. That's why eating foods which are natural immunity boosters are very important. Colin Wang's book is a great source to know more about the food that empowers and prepares the immunity system to fight the Coronavirus.
All over the world, millions of people have lost their lives and suffered from Covid-19. The global pandemic has reiterated the importance of a nutritional and well-balanced diet along with leading a healthy lifestyle. It has been observed that Covid-19 affects more adversely the people with a bad immune system. So, the only way to combat this disease is by eating healthy and staying fit.

For more information, kindly visit – https://www.amazon.com/dp/B09BB8GMFD
Media Contact
Contact Person: Colin Wang
Email: Send Email
Country: Singapore
Website: https://www.amazon.com/dp/B09BB8GMFD