Innovative live music platform, Augusta Nights, organizes a Southern Soul Blues and Ribs Fest to offer an evening of great sounds and fun to the people of Augusta, Georgia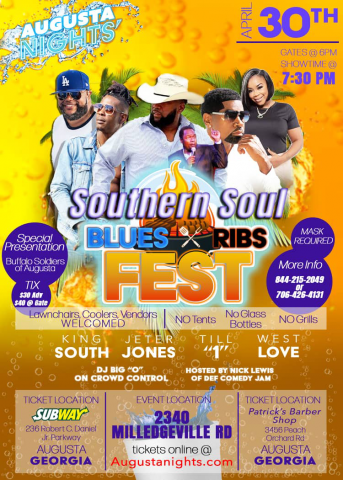 Augusta Nights is presenting a Southern Soul Blues and Ribs fest produced by GMELive Barb-Q and Ribs provided by RibBrothers, LLC. The goal is to provide an outlet for music lovers in Augusta Georgia. Hosted by Nick Lewis of Def Comedy Jam, the Covid-19 safe event is scheduled to be held at 2340 Milledgeville Road, Augusta, Georgia on April 30th. Augusta Nights is designed to serve as an entertainment platform that provides a variety of live music across different genres, including blues, soul, jazz, country, and gospel.
"Covid-19 has put a damper on live events; we want to safely provide an outlet for music lovers in Augusta, Georgia," said Chris Fairley, VP of outreach for Victory Promotions, LLC and CEO of GMELive, LLC. "We will provide a safe and secure Covid-19 free event on April 30th," he continued.
The Covid-19 pandemic has undoubtedly disrupted normalcy across the globe. The entertainment industry has not been exempt from the effect of the crisis, as restrictions in movements have made it difficult for people to gather at public events. However, activities are beginning to return amid strict compliance with safety protocols. In a related development, Chris Fairley and his team are looking to bring back some fun and excitement to Augusta with the Southern Soul Blues & Ribs Fest.
The outdoor event will be held at The Old YMCA Soccer Field on Milledgeville Road, with a special presentation from The Buffalo Soldiers of Augusta. The big fella, DJ Big "O" will be on crowd control, along with an all-star cast of performers treating attendees to the best of live music. Names to expect at the event include The King Of Trailride Jeter Jones, King South, Till1, and West Love.
No tents, grills, or glass bottles are permitted at the venue. Interested attendees are welcome to bring their lawn chairs and coolers. Vendors are also welcome to be a part of this landmark event.
Tickets to the Southern Soul Blues and Ribs Fest are available at Subway located at 236 Robert C Daniel Jr. Parkway and Patrick's Barbershop at 3456 Peach Orchard in Augusta, Georgia.
Media Contact
Company Name: GMELive LLC in Partnership with Victory Promotions LLC & RibBrothers LLC
Contact Person: Falon Thomas
Email: Send Email
Phone: 844-215-2049
City: Columbia
State: South Carolina
Country: United States
Website: augustanights.com