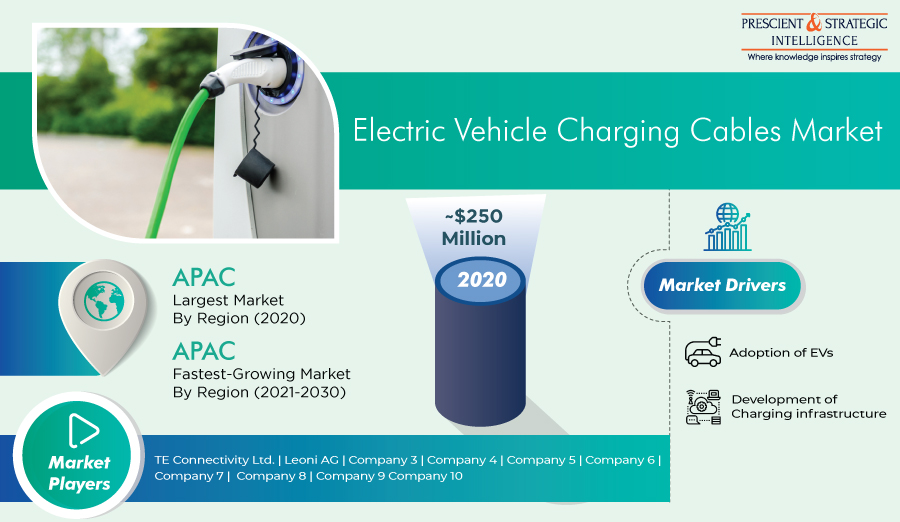 Asia-Pacific has held the largest share in the electric vehicle charging cable market because this region, led by Japan, South Korea, and China, is the largest EV manufacturer and user in the world.
Due to the surging concerns being raised over the environmental degradation, many governments are providing strong support for the manufacturing and deployment of electric vehicles (EV) and development of the related charging stations. These government measures helped the global electric vehicle charging cables market reach a revenue of $250 million in 2020. Moreover, the market is predicted to boom between 2021 and 2030.
The COVID-19 pandemic badly impacted the manufacturing and sales of automobiles across the world, on account of the imposition of strict lockdowns, social distancing measures, and sharp reduction in people's earnings. This, in turn, hampered the progress of the EV industry, as the sales of EVs dropped globally. This subsequently put brakes on EV charging station deployment activities, thereby reducing the requirement for EV charging cables and hampering the advancement of the EV charging cables market.
Download report sample at: https://www.psmarketresearch.com/market-analysis/electric-vehicle-charging-cables-market/report-sample
The AC category is predicted to continue to lead the EV charging cables market, under the power supply segment, in the forthcoming years. This is credited to the large-scale installation of the EV charging infrastructure in private spaces such as offices and homes that are powered by AC.
The Asia-Pacific region dominated the EV charging cables market in the years gone by, on account of the fact that this region, led by China, South Korea, and Japan is the world's largest manufacturer and user of EVs. Additionally, the governments of many regional countries are taking measures for supporting the deployment of EV charging stations.
The development of dynamic load management systems and type-2 connector plugs, adoption of EV charging services along with already existing payment systems, increasing availability of high security and better charging control, and the identification of EVs via powerlines are creating immense growth opportunities for the players operating in the EV charging cables market. Thus, in order to improve the durability and charging speed of the cables, the market players are announcing collaborations and partnerships.
For example, BYD Co. Ltd. and AMPLY Power started a partnership with each other in November 2019 for developing EV charging stations and providing comprehensive services such as operational upgrades, utility interconnections, debt funding and financing, and the utilization of duty cycle and drive cycle for providing optimal charging strategies, to the EV fleet owners. These services assist customers in reducing their operational expenditure.
Browse full report at: https://www.psmarketresearch.com/market-analysis/electric-vehicle-charging-cables-market
Some of the major players in the global EV charging cables market are Dyden Corporation, TE Connectivity Ltd., BESEN-Group, General Cable Technologies Corporation, Leoni AG, Coroplast Group, Chengdu Khons Technology Co. Ltd., PHOENIX CONTACT GmbH & Co. KG., and Aptiv plc.
Market Size Breakdown by Segments
By Power Supply
Alternating Current (AC)
Direct Current (DC)
By Charging Level
By Application
By Shape
By Cable Length
Up to 5 Meters
6 Meters to 10 Meters
Above 10 Meters
Geographical Analysis
North America
Europe

Germany
France
U.K.
Sweden
Norway

Asia-Pacific
Rest of the World
Second-Life Automotive Lithium-Ion Battery Market – https://www.psmarketresearch.com/market-analysis/second-life-automotive-lithium-ion-battery-market
U.S. Electric Bus Market – https://www.psmarketresearch.com/market-analysis/us-electric-bus-market
Media Contact
Company Name: P&S Intelligence
Contact Person: Abhishek
Email: Send Email
Phone: +918887787886
Address:Noida Sector 2
City: Noida
State: UP
Country: India
Website: https://www.psmarketresearch.com/market-analysis/electric-vehicle-charging-cables-market