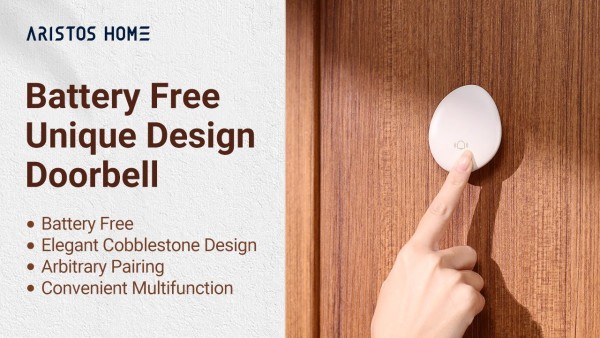 Aristos Homes, a company dedicated to researching, refining, and producing products that ease consumer's day-to-day activities has unveiled their newest invention in doorbell technology — the Aristos Homes Self-powered Doorbell. This revolutionary device is designed to provide customers with a safe and secure home environment, while incorporating the latest advances in modern technology.
This state-of-the-art doorbell is equipped with an emergency pager feature for elderly customers, who can now easily call for help in the event of an emergency. The IP67 waterproof technology also ensures that the doorbell will remain functional even when exposed to harsh weather conditions. Additionally, the battery-free construction allows for a 30-second installation time, making it easy to set up and use.
The smart doorbell also comes with special features such as a dog potty training mode. By activating this mode, the doorbell will alert pet owners any time their dog needs to go out for relief, eliminating messy accidents inside the home.
Aristos is famed for combining high-tech function with elegant product appearance. This is because the company's core production services is enshrined in developing the functions and simplifying the design of its products, a prerequisite they used on the Self-powered Door Bell. "We made our Button with a unique cobblestone design, which adds a natural and warm atmosphere to your home, and also shows the owner's aesthetic taste", said CEO of the company.
The Self-powered Doorbell was designed with 38 ringtones, including door ringtones, emergency sound effects, cat barking, dog barking, etc.,to suit different scenarios; 4-level adjustment volume, the sound range is 0dB-75dB, suitable for various occasions.
"Our doorbell comes with a self-adhesive card slot, lanyard, and a doorbell button detachable, no more hard-wire installation, you can install it within 30 seconds." said the CEO of Aristos Homes. "Make sure your last set melody and volume level are saved after a power outage, so you don't need to reset everything."
About Aristos Homes
Aristos Home was founded in 2022 by a group of leading technology experts. Aristos stands for "the best" in English. Their goals are to improve the security of homes through smart devices, innovations, and new technologies.
The company's products include secure delivery drop boxes designed to help protect the deliveries of its customers around the world. The company's durable, smart-locking cabinets eliminate delivery theft and packaging environmental damage and include other smart-features to enable shipping and storage.
The Aristos Homes Self-powered Doorbell is available now Indiegogo. For more information visit aristoshomes.com/
Media Contact
Company Name: Aristos Homes
Contact Person: Lydia
Email: Send Email
Country: China
Website: https://aristoshomes.com/