The new simple to play casual android game has been touted by many android users as the perfect fun past-time for long journeys and idle moments
March 8th, 2022 – Cat vs Mouse, a new simple android game created by Vionix Studio – a game software development firm, is currently trending among smartphone users as the most fun-filled pastime application on their android operating systems.
The simple to play casual game has been described as the perfect companion for long journeys and other idle moments when time seems to be moving too slow.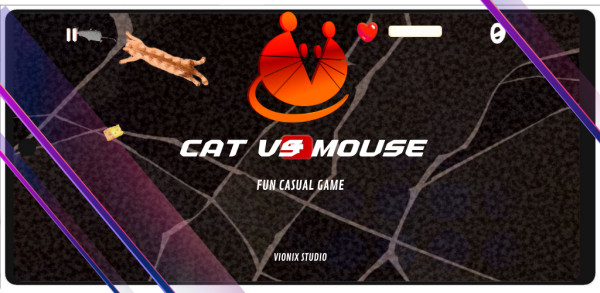 "Looking for the perfect companion for that long trip? Or do you simply want a stimulating de-stressing activity to test your reflexes and calm your nerves? Whatever category you fall into, we promise that Cats vs Mouse is perfect for you. We developed this game to be simple yet exciting, so you can have amazing fun, swiping away at your phone's screen."
Programmed to allow offline gameplay, the casual mobile game was built around the age-long conflict between the cat and the mouse and allows users to participate in the century-old faceoff by swiping away on their screens. As always, the game picks sides with the little guy, allowing players the chance to control the mouse as they try to save it from getting eaten by the cat.
Asides from the pieces of cheese that pop up every millisecond, which the rat must consume for energy to keep running, Cat vs Mouse also features other incredible power-ups that add to the drama and make the game such an exciting adventure. They include:
– Hourglass – Slows down the speed of the game for some time and reduces the cat speed to enable the mouse to maneuver easily.
– Health kit – Restores the mouse's health as it deteriorates from scratches and close calls.
– Mouse door – This allows the mouse to teleport from one side of the screen to another, thereby confusing the cat and buying itself some time.
Designed to test the strength of a player's hand and eye coordination, Cat vs Mouse are a game of speed and fast reflexes. Anyone searching for a casual distraction with which to allow time to move faster, as well as those in need of a simple stress-relieving activity to calm their nerves, can all download Cat vs Mouse by clicking on the following link: https://play.google.com/store/apps/details?id=com.Vionixstudio.CatvsMouse
Video link: https://youtu.be/jmkWTPQKvLM
About Vionix Studio
Vionix Studio is a game development company that also offers game development courses and tutoring programs to help beginner programmers learn game development from scratch. Based in Bangalore, India, the company sells its courses through its online store and also features a portfolio page where clients can find and hire the best software programmers.
For more information, please contact below.
Media Contact
Company Name: Vionix Studio
Contact Person: Vinod Ravisankar
Email: Send Email
City: Bangalore
Country: India
Website: https://vionixstudio.com/