Toronto – February 24, 2020 – Booking an all-inclusive resort can turn out to be the best vacation decision, or a regrettable one depending on which property is chosen and how it meets individual expectations.
The new booking and comparison portal, AllResortMaps.com is a must-use resource for travelers looking to make an informed resort selection decision in the Bahamas, Dominican Republic or Jamaica.
Trying to choose the right all-inclusive vacation resort is often a time-consuming activity. With hundreds of options to choose from, all with similar offerings, it's easy to get overwhelmed. The now launched AllResortMaps.com aims to streamline the decision process by letting travelers directly compare multiple resorts on 90 criteria in 10 categories including food, service, amenities, rooms, entertainment, pricing and more.
In addition to the comparison functionality, the site also utilizes a proprietary scoring algorithm to rank and recommend the top 3 resorts for 5 different lifestyles (Family, couples, Entertainment, relaxing, and everyone). This ensures that travelers can easily determine which resorts are the top choices for their personal situation.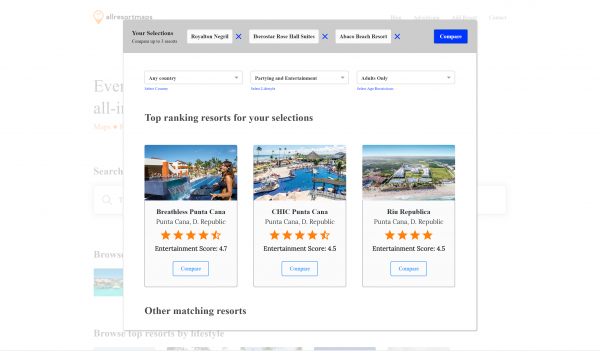 "It's hard to compare resorts as "apples to apples", and at a glance, they all seem the same. AllResortmaps.com helps you find and directly compare resorts in an easy to read table," says Kevin Fernando, founder of Allresortmaps.com
The criteria and evaluation factors are extremely detailed, and each resort gets a ranking for each of the 5 lifestyles. For instance, in food & drink, the factors judged include the number of restaurants, availability of premium alcohol, snack options, late-night options, and specialty dining to name a few. The room evaluations include in-room mini-bar, double vanity, bathroom layout, room size, and living area, among others. The site similarly scores criteria from the other 8 categories in creating a unique score for each resort.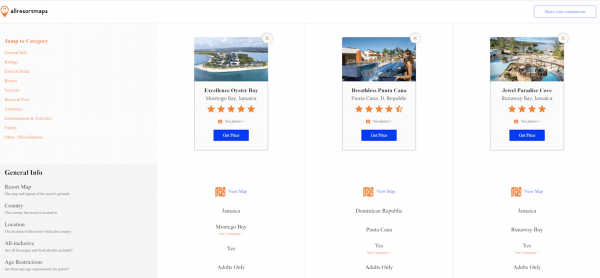 Allresortmaps.com gives vacationers an easy way to compare 4-star+ vacation resorts in Jamaica, Dominical Republic, and the Bahamas, with more locations soon to follow.
For more information, please visit: https://www.allresortmaps.com/
Media Contact
Company Name: All Resort Maps
Contact Person: Kevin Fernando, Founder
Email: Send Email
Phone: 416 845 0704
Address:10 Kimberdale Crescent
City: Toronto
State: ON, M1W 1Y5
Country: Canada
Website: https://www.allresortmaps.com/