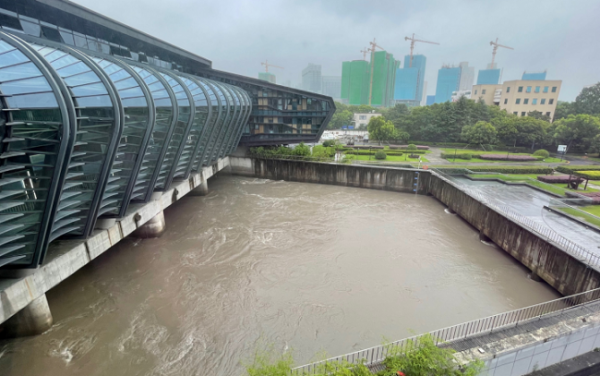 Hangzhou in East China's Zhejiang province has used 18 reservoirs to discharge 210.96 million cubic meters of flood water brought by Typhoon In-Fa as of 2 pm on July 26, local media reported on July 27.
The highest water level of Gongchen Bridge in the city reached 2.68 meters, which surpassed the warning level, at 7 am on July 26. In response, the Sanpu drainage station initiated its four sets of drainage machines, with the forced drainage flow reaching a maximum of 200 cubic meters per second.
After 12 hours of continual operation, the Sanpu drainage station had drained 21.96 million cubic meters of water and Gongchen Bridge's water level began to recede.
Hangzhou's Chengxi River, which connects to the Qiangtang River, had the risk of river backflow after days of rain. To help the river reach a safe level, the Dadaosha pump station near Qiantang River was used to drain flood water for the first time since it started operation in 2011.
"Two hours after the pump station began operating, Dongmuwu River's water level was reduced by six centimeters," said Wang Jian from the Hangzhou Reservoir Management Service Center.
Another reservoir Qingshan closed all its gates at 6:40 am on July 26 to intercept the flood and to ensure the safety of Xixian Datang, an important flood barrier in northern Hangzhou.
Media Contact
Company Name: The Information Office of Hangzhou Municipal Government
Contact Person: Cai Jingwen
Email: Send Email
Phone: 0510-68559077
Country: China
Website: http://www.ehangzhou.gov.cn/