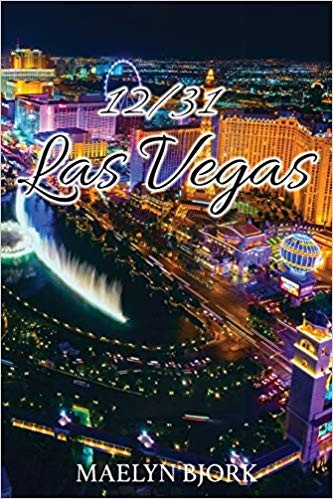 Sandy, Utah – July 22, 2019 – Thriller novels have a magnetic quality that pulls readership. 12/31 by Maelyn Bjork is a novel rich in cliffhangers and in touch with reality, which is terrorist attacks. The plot begins with a suspected terrorist activity which prompts a team of FBI agents from Southern California to investigate using computer technology. A chain of events brings them to Las Vegas, and a woman who is a vet rescued a near-death Dexter MacCandlass. What follows is a suspenseful story to cripple a terrorist attack in Las Vegas on New Year's Eve.
What's outstanding in this book is how the female character is shaped – nuanced, energetic, and sculpted to support the story to hold up and make an impression. Adult women will immensely enjoy this book. Maelyn Bjork's extraordinary story-telling acumen will leave readers be at the edge of their seats – 12/31 promises that quality.
For Maelyn Bjork, writing came to her as a diversion as a mom raising four children – she began with writing short stories and has upgraded herself as a novelist writing strong female characters. Her writing passion became full-fledged after she retired from her teaching career.
When asked about her author influence, Maelyn Bjork said that she writes heroines that are upright, honest, family-oriented women. She adds, "Writing is my new career. And I began it after retiring from my first career, teaching. And whatever one does, it should also be enjoyable and fun."
Maelyn Bjork hopes that 12/31 Las Vegas will be enjoyed by female readers looking for a strong female character in an urgent and precarious situation. The author lives by the quote, "Don't do it if it doesn't 'feel' right."
For more information, visit Amazon book link https://www.amazon.com/12-Las-Vegas-Maelyn-Bjork/dp/1970066598/ref=sr_1_1?s=books&ie=UTF8&qid=1550164216&sr=1-1
About the author
Maelyn Bjork first focus was to pursue an education so that she could teach in public schools. Majoring in Home Economics, she also pursued minor degrees in English and Science. To her credit, she has a degree in Home Economics/ English from the University of Utah and a master's degree in Education/ Food and Nutrition from Arizona State University. She worked as a teacher for twenty-two years – the last fifteen years were spent teaching in an at-risk facility for Teen- moms and their young children.
She is a member of the Utah Chapter of Romance Writers of America and the Writers Guild of Utah.
Website: http://maelynbjork.com/
Social Media Accounts:
Facebook: https://www.facebook.com/Maelyn-Bjork-2358581727801511/
Twitter: https://twitter.com/AuthorBjork
Tumblr: https://authormaelynbjork.tumblr.com/
About Toplink Publishing
Toplink Publishing offers highly scalable platforms that are growing quickly, positioned to become the global leader in accessible and strategic publishing and marketing solutions. For new book/books to publish or publicize one's published work, contact by calling 1-888-375-9818.
Media Contact
Company Name: Toplink Publishing
Contact Person: Maelyn Bjork
Email: Send Email
Phone: 888-375-9818
City: Kelly
State: North Carolina
Country: United States
Website: https://www.toplinkpublishing.com/