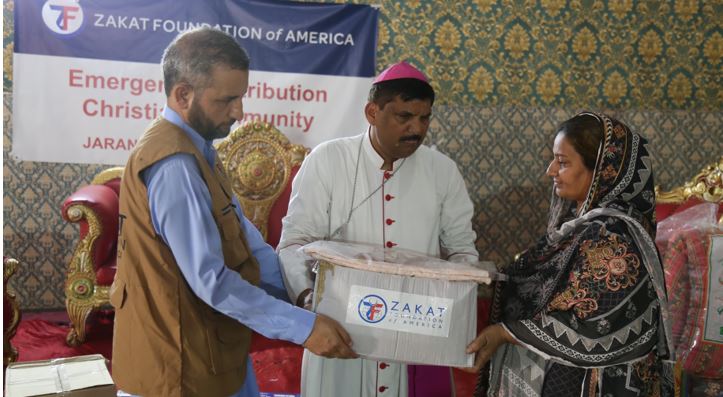 Armed mobs have attacked 26 churches in Pakistan's Punjab province, burning some and vandalizing others.
The mob that attacked the churches also attacked nearby Christian homes and communities.
"Violence and chaos are not the answer," said Halil Demir, Zakat Foundation of America's Executive Director. "Our hearts ache for our Christian brothers and sisters who have been forcefully denied the sanctity of their houses of worship." The organization has a history of working in Pakistan for many years, working in the areas of food security, flood relief and healthcare, among others.
In response to the attacks, Zakat Foundation of America's emergency response team is assisting victimized Christian families who reside in nearby colonies. The nonprofit organization is providing food and everyday essentials to the victims as short-term relief.
Zakat Foundation of America's long-term plan is to rebuild four churches that were burned down. Pakistan's Christian minority needs assistance to rebuild homes and places of worship.
Donations will provide:
Cleaning and hygiene supplies ($35)
Food package for a family of five ($60)
Bedding and kitchen supplies ($150)
Support toward rebuilding the churches ($250)
Cleaning supplies include laundry powder, dishwashing bars and soap. Food packages include rice, lentils, sugar, spices, oil and tea. Home supplies include pots, pans, a fan, water coolers, sleeping mats, two beds, bed sheets, blankets, mattress and pillows. Zakat Foundation of America will work in partnership with the local communities to begin reconstruction of the four churches.
100% Pledge
Zakat Foundation of America does not take any cost out of emergency funding. 100% of funds donated to emergency relief campaigns will go directly to aid and assist; we do not take any administrative fees from emergency relief programs.
Founded in 2001, Zakat Foundation of America is a 501(c)3 NGO that helps generous and caring people reach out to those in need. Zakat Foundation's mission is to address immediate needs and ensure the self-reliance of the poorest people around the world. Zakat Foundation conducts humanitarian assistance programs in more than 50 countries on five continents.
For more information, please visit http://www.ZAKAT.org or call 1-888-ZAKAT
Media Contact
Company Name: ZAKAT
Contact Person: Lindsey Branson
Email: Send Email
Phone: 1(708) 233-0555
Country: United States
Website: https://www.zakat.org/