The months of February, March, and April would offer local vendors in Tampa a chance to display their goods and products to visitors and guests as Your Tampa Markets announces events lined up for the first quarter of 2022
Since its establishment, Your Tampa Markets has committed itself to organizing and hosting events in Tampa which are geared towards preserving the culture of locals while giving guests an experience of the rich cultural heritage of Tampa. Such events have also created an avenue for local vendors to showcase their products and enjoy patronage from the guests that troop into Tampa during these periods. Local artists are not exempted from the beneficiaries, as Your Tampa Markets gives slots for musical performances as a means of providing entertainment for the guests.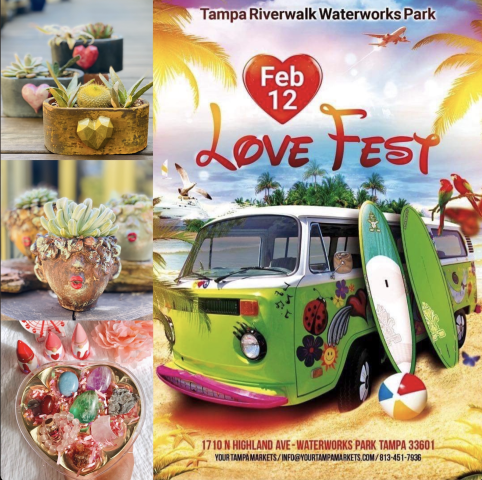 2021 was a fulfilling year for Your Tampa Markets and the brand is not resting on its oars. It has rolled out a catalogue of events scheduled for the first quarter of 2022 as it continues to iterate its commitment to preserving and showcasing the rich culture of Tampa. Recently, Your Tampa Markets held a sports and wellness program and as valentine approaches, it has announced that all is set for a February LoveFest.
Speaking about the programs scheduled for the first quarter of 2022, founder and CEO of Your Tampa Markets, Gwendolyn Harding had this to say, "We are passionate about introducing and preserving cultural experiences in our community. The LoveFest in February and other events following are part of what we are doing to drum support for local artists and vendors and promote local businesses."
The LoveFest which comes up on February 12, presents another opportunity for people to visit the Tampa Riverwalk and enjoy spirited local music, foods sold in food trucks by local vendors, arts and craft displays, mini shopping, and more. It promises to be a day of premium entertainment and artistic showcase and Your Tampa Markets is ready to welcome guests and locals to the Tampa Riverwalk.
Other events slated for Q1 of 2022 by Your Tampa Markets include Shamrock Fest on March 12, Sweet N Spicy on April 16, and May Fest on May 21. For more information, please visit www.yourtampamarkets.com or send an email to info@yourtampamarkets.com.
About Your Tampa Markets
Your Tampa Markets is a community-based organization, offering event outreach opportunities for talented craftspeople, artists, and local area business owners, to merge together with the Tampa diverse community by providing festivals, craft fairs, art walks, hosting local charities, and themed events.
Find out more about the activities of Your Tampa Markets. Log on to www.yourtampamarkets.com/upcoming-events.
Media Contact
Company Name: Your Tampa Markets
Contact Person: Gwendolyn Harding
Email: Send Email
Phone: 813-451-7936
Country: United States
Website: http://www.yourtampamarkets.com/