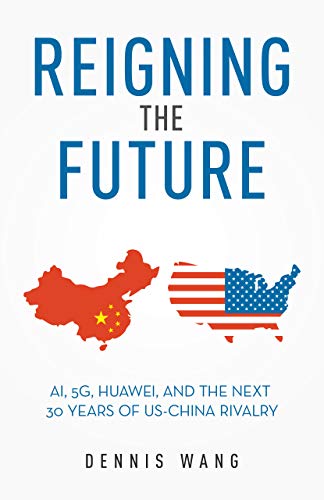 March 11, 2020 – Dennis Wang, a young author, US-China relations and technology expert, and global affairs aficionado with a penchant for following the "Tech Cold War," this week officially published his already acclaimed book: Reigning the Future: AI, 5G, Huawei, and the Next 30-Years of US-China Rivalry.
As the US and China approach a crossroads regarding everything from imports/exports, to surveillance, global technology, spying, and much more, Wang aims to demystify the issue, discuss the present political rivalry as it threatens both nations, and provide a technology lens that underlies relations.
"I have been interested in US-China relations my entire life, taking numerous courses, jobs, and travel adventures to explore my curiosity," said Wang. "Given that US-China relations is at the forefront of the news, especially amid the Coronavirus pandemic today, more people are interested in the issue than ever before. I wanted to write a book to help clear up any confusions."
Reigning the Future is broken down into two parts: the first part explores the historical relationship between the two countries, laying the foundation for the second part of the novel, which discusses important technology-related topics in the context of bilateral relations. Specific topics explored include 5G, AI, and Huawei, as well as how these technological inventions are poised to not only change the world, but also create a "Tech Cold War" that we could experience for the rest of our lives.
Already experiencing early success with the release of Reigning the Future, the book is a #1 Amazon Bestseller in "international Relations," as well as the #1 New Release in "International Economics" just a few days following release.
Determined to ensure the book was a success, throughout the publication process, Wang raised $8,000 USD to fund its publication.
"People always ask me, 'do you believe China and the US can work together?' I definitely believe the two can work together, and in fact, they must work together – for their countries, their economies, and the entire global economy. I hope that this book will open the eyes of readers to view US-China relations beyond mere headlines and sensationalism in the news. With this information, I think we can start to foster a more collaborative relationship between the two countries," said Wang.
Through Wang's personal experiences with companies like Huawei Technologies and China Central Television, plus his studies at Duke University, he is able to provide a unique perspective to readers regarding the intricacies surrounding the topic.
Reigning the Future is available on Amazon, Barnes & Noble, and Kobo today. Wang is hoping the book will inform readers through expert interviews and in-depth analyses about the mounting tensions between the two superpowers. The topic has never been more relevant.
For more information, visit: https://www.reigningthefuture.com.
To purchase Reigning the Future on Amazon, visit: https://www.amazon.com/Reigning-Future-Huawei-US-China-Rivalry-ebook/dp/B0851XT48D/ref=tmm_kin_swatch_0?_encoding=UTF8&qid=1583461237&sr=.
Media Contact
Company Name: Reigning the Future
Contact Person: Dennis Wang
Email: Send Email
Phone: 207-607-2198
Address:Duke University Hollows A Rm 4004
City: Durham
State: North Carolina 27705
Country: United States
Website: www.reigningthefuture.com