Distributing art is more than a transaction.
London – May 11th, 2021 – You Gotta Burn! is available online, as a freely downloadable, 3D print-it-yourself artwork – and what's not to enjoy about a melting skull in Lowbrow art style with eyes flailing out of the sockets stabbed through by daggers? This is a striking image in digital art made into bulging 3D by Zbrush artist Eva Sbaraini aka Evavoo. Based on a concept by illustrator Russell Taysom.

Left Image: 'You Gotta Burn' illustration by Russell Taysom
The design can be easily mounted onto any wall or solid surface via a fitting in the back. Once the file is loaded up into a standard 3D printer – of any kind – the rest of the work will be done automatically. It doesn't even require any support prongs – the design was created with minimal material wastage in mind.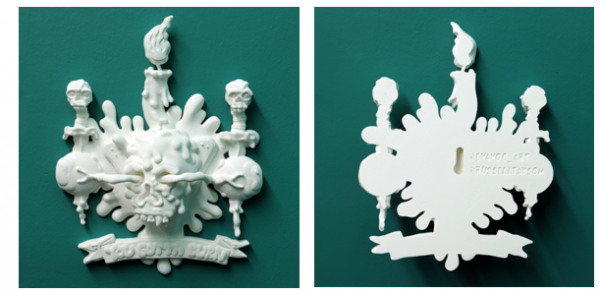 Above Left + Right: 'You Gotta Burn' 3D printed in plastic made from recycled material. Image credit: Evaoo
Now distributing art is more than a transaction. It's a community building piece of ongoing work which can invite in all kinds of hands and eyes to show off their deeper working with the very artists themselves.
This model runs against the current rising fad of monetizing art in the most cynical way possible. The NFT craze has people looking at every tiny piece of media they may or may not have created and chomping at the bit for "ownership" over the infeasible promise of ownership of the code that makes up the image.
'This art piece exists outside of that [NFT] loop. Production at a community scale – that's what file sharing allows for.' – Evavoo
The art piece is available from Cults3d.com, a website which hosts a catalog of files for home 3D printing. Once downloaded, You Gotta Burn can easily be configured into any 3D printer. Suggested settings are provided on the download page. Once it's printed, the maker can go wild – using their own medium to add to the art and share it online, then hang it up where it needs to be seen the most. There is no limit to the number of times it can be reproduced. It's freely distributed for a reason.

Above Left + Right: 'You Gotta Burn' painted by Twitch streamer 'Paintsona5up'.
Links:
Additional Press Files [images, and article – free to use]
Need more information, or additional press information about the project? Email: evavoo.art@gmail.com
Media Contact
Contact Person: Eva Sbaraini
Email: Send Email
Country: United Kingdom
Website: https://linktr.ee/Evavoo