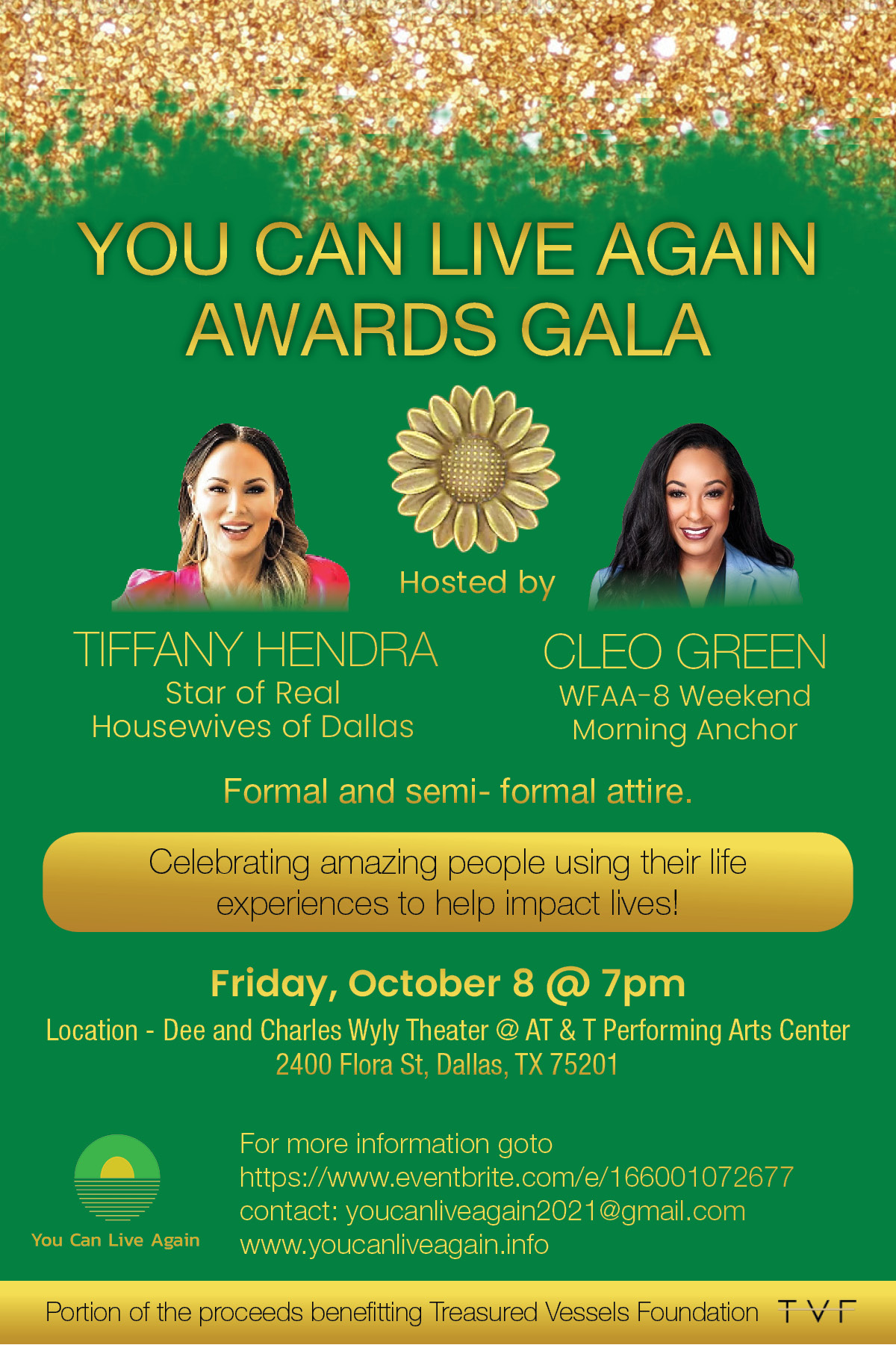 The You Can Live Again Awards Gala is glad to announce the starry event for this year is finally underway. A night filled with exciting performances, celebrity appearances, and good music is in store for every attendee. All are invited to come and be a part of this exciting event on October 8, 2021, at Dee and Charles Wyly Theatre, AT&T Performing Arts Center.
You Can Live Again has been an organization dedicated to helping individuals believe in their life purpose. Throughout the years, they have worked to partner with organizations and individuals who have impacted their community. By conducting events and charities, they have successfully raised funds. The organization welcomes all to volunteer, participate, or donate towards the Treasured Vessels Foundation that provides safe communities for survivors of sexual exploitation to achieve their true potential.
This year's You Can Live Again Awards Gala at Dee and Charles Wyly Theatre will be hosted by Tiffany Hendra of Real Housewives of Dallas and Cleo Greene, the WFAA-18 Weekend Morning anchor. The red-carpet event will begin at 5:30 pm and last till 6:30 pm.
"YCLA! Together we empower YOU to thrive past conflict. We encourage individuals to be results-oriented in their respective lifestyles and careers. Our enthusiasm is contagious! We know what it feels like to have to start over or to struggle with believing in yourself. Many have suffered a loss in some way. With us, YOU rediscover yourself. YOU CAN LIVE AGAIN", says a spokesperson for You Can Live Again.
To name a few who will receive the YCLA Awards are Alicia Bush, Treasured Vessels Foundation, Malian Butler, Actress, featured in Black-ish and new Disney Pilot, Ron Corning, Host CW33/Morning After, Rodney DeBaun, Ceo, The Nicklas Foundation Dr. Froswa Booker Drew, VP of Community Affairs, State Fair of Texas and Laura Fedock, Life and Style by Laura, among many others.
You Can Live Again is a US-based organization with its headquarters in Dallas, Texas. They are a group of people who empower men and women who have been victims of abuse to find their place and purpose in life. Through the tenure of this organization, they have helped rescue many lives and will continue to keep up the good work.
For more information, please visit: www.youcanliveagain.net
Media Contact
Company Name: You Can Live Again
Contact Person: Kertrina Dauway
Email: Send Email
Country: United States
Website: http://www.youcanliveagain.net