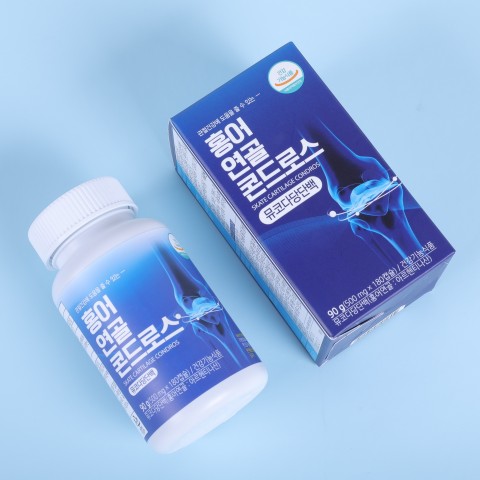 Skate is mentioned in Jasaneobo (The book of fish) that was written by Jeong Yak-jeon, who was Jeong Yak-yong's elder brother, during his exile in 1814 (the 14th year of King Sunjo's reign), the late Joseon Dynasty.
"Skate cures hangovers and cleanses the intestine. And its skin works well to cure a snake bite. Skate soup is used for postnatal care to protect the woman's body after giving birth, and fermented skate is good for digestion and bowel movement. Skate's bone and skin are good for joints."
The history of skate used for food seemed to have started from the time when the people of the Korea started to catch fish and seafood from the sea. But the history of fermented skate dish started from the time when the residents of Heuksando Island moved to Yeongsanpo in the 1360s, the late Goryeo dynasty. Its history has been continued for more than 600 years, but its history of the modern processing industry is pretty short.
HACCP certification is necessary for the sales in major supermarkets and home shopping malls with high demand in the Korean food industry. The skate processing industry also requires HACCP certification, which has brought a change to a mass-processing method that is more hygienic and more manageable while keeping the traditional taste. As a result, skate, which was consumed only in small amounts in the Jeonnam region in the past, is now being consumed in large quantities due to a rapid increase in demand nationwide.
Yeongsan Skate(Co., Ltd.) in Yeongsanpo, Naju-si, Jeollanam-do, supplies large quantities of fermented stake, which is a special regional dish in Jeonnam, to E-marts, E-mart Everyday, all Nongshim Mega Marts, and NS Home Shopping, taking the lead of the popularization of skate. As the mass production of the products related to skate become accelerated, the byproduct from the skate processing such as skate's skin, cartilage, and its meat are disposed as waste without any separate treatment process, and it can cause not only environmental pollution including odor and pest breeding but also huge disposal expense. Therefore, in February 2013, the research center affiliated with the company was established to build a hygienic separating processing and material obtaining system, and it acquired the patented technology for mass production and deodorization of the material for skate collagen peptide. It's product, Cartilage Condros is a health functional food that contains mucopolysaccharide and protein from skate cartilage which can be helpful for human joints and cartilage. And by 2022, the skate collagen peptide is expected to be registered as a health functional material proven through clinical tests for its body fat reducing function.
As collagen becomes popular among consumers, Yeongsan Skate launched the brand 'Shimhaero' to advance its business to the inner beauty market, developing distinctive products such as powder stick, tablets, stick jelly, water jelly, etc. Also, it differentiates from other company using skate collagen peptide for cosmetics (skin, lotion, eye cream, mask pack) and daily necessities (shampoo, treatment, tonic). An official from Yeongsan Skate (Co., Ltd.) said, "We continue to launch various products using skate that are proved in its functionality. We'll try to change many people's prejudice about skate through our products."
Skate byproducts

Main ingredients

Functionality

Applicable products

Skin

Protein, collagen

. Skincare effect by maintaining the skin's moisture

Health foods, cosmetics, beverages,

High-functioning beauty products, medicines, etc.

Cartilage

condros

Chondroitin sulphate

. Prevention and treatment for degenerative arthritis

Health food, medicines, materials, etc.
Media Contact
Company Name: YEONGSAN SKATE CO.,LTD
Contact Person: Kang, Hu Won
Email: Send Email
Phone: +82-61-334-0305
Country: South Korea
Website: www.skate-ray.com