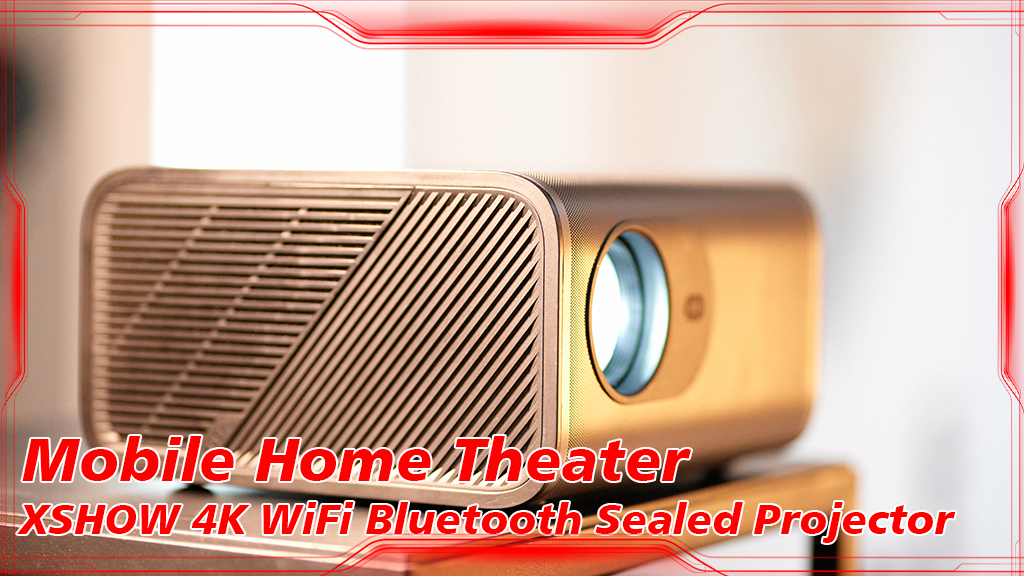 Support mobile phone screen projection/4K HD Images/3s Autofocus/750ANSI/WiFi Connection/Bluetooth Speaker/Home theater /Dustproof
XSHOW sealed projector is a compact but ultra-high definition 4K display rate. Its compact design can be carried to any place for projection, and it has the function of mobile phone screen projection. It can be used without downloading the application.
The 9th generation of the Amlogic image quality engine enables XSHOW to provide high-quality image rendering without delay or frame skipping compared with ordinary projectors. No matter what video is played, it can respond quickly.
XSHOW can quickly and automatically adjust the focus. It does not need other projectors to go to the front of the projector and turn the suffocating focus wheel. Just use the remote control to easily adjust the focus and image definition from the seat. It also has the function of automatic adjustment. While you move the projector, XSHOW greatly improves the viewing experience by automatically adjusting the focus according to the distance.
The gradient can also be adjusted on the irregular wall surface by using the remote control, which eliminates the trouble of complex projector settings. The front camera automatically focuses ±40° omnidirectional trapezoidal correction, ±40° full angle automatic focusing, which is ready for use and is equipped with a high transmittance glass-coated mirror.
"The projector is an electronic device that should be used for a long time, so we will consider the design of long-term use when designing. Therefore, our integrated sealed design can isolate dust and some moisture, so that the stability of the device can be increased and the service life can be longer. The lamp and lens are made of high-quality glass, and low dispersion coating materials are used to make the picture clearer and brighter," CEO said.
The XSHOW sealed projector also has a brightness of 750 ANSI lumens, which is the brightness of the flagship LCD model. If the lumens are too low, the projector will have a very poor viewing effect in the daytime, while XSHOW has reached 750 ANSI lumens, which will not affect normal use even in the daytime.
XSHOW supports HDMI input and output, as well as 25W audio and Bluetooth audio. With rich external sockets, it is equipped with Android system +16G memory and has high software compatibility to enrich your media library. It can be used for family entertainment, meeting rooms, camping, school courses, etc. With its convenient portable design and high brightness, XSHOW can bring great convenience to life.
To know more about The Versatile Smart Electric Toothbrush, check out the company's page on Kickstarter.
Media Contact
Company Name: XSHOW innovation
Contact Person: WANG FENG
Email: Send Email
Country: HongKong
Website: https://www.kickstarter.com/projects/1046586941/xshow-mobile-home-theater-4k-wifi-bluetooth-sealed-projector