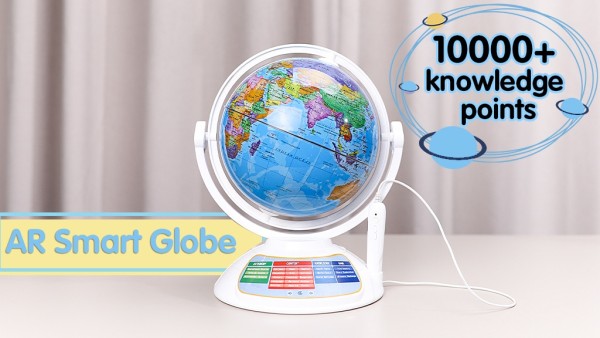 Today, the world is becoming smaller and more accessible. With so much to learn, it can be hard to keep up with all the places, people, and cultures around the world. AR Globe – Window to the World is changing the way you learn and explore the world with the help of augmented reality (AR) technology!
AR Globe – Window to the World, created by Wuba Lab, is a combination of a talking pen, interactive globe, LED constellations light, audio-visual effect, and most importantly, a learning tool. It provides you with a fully immersive experience as you discover and learn about different countries, landmarks, cultures, and more.
The talking pen helps to bring the globe to life. It has audio narration and recordings in multiple languages, allowing users to easily switch between languages. This feature is great for children and language learners alike. To further enhance the learning experience, the LED constellations light up when the talking pen is used to highlight different points across the globe.
"Our globe is perfect for anyone who likes geography. It can be rotated 720° in any direction and shows over 6,000 political boundaries with national capitals as well as major cities and mountain ranges. The map is printed in ultra-clear handwriting using a special ink, so it's easy to read. It also comes with a stand that makes it easy to display anywhere, and the colors are clear and beautiful," said the founder of Wuba Lab.
This smart globe that combines artificial intelligence to create a magical experience for kids and adults. "We offer a wide range of fun and interactive learning games that come in many different themes. Your child will love exploring the world around them while developing reading, literacy, and scientific skills." It's a useful way to learn about Earth, like having a private teacher at your fingertips.
The combinations of audio and visual effects are designed to ensure that users interact with the globe in an engaging way. By understanding the context of each region, users can explore deeper into its history, geography, culture, and entertainment. It's a great way to broaden one's understanding and knowledge of the world while having fun at the same time.
AR Globe – Window to the World offers educational opportunities like no other. It is an engaging, entertaining, and informative way to learn about the world right at home. The globe features over 10000+ knowledge points, making it an amazing tool for kids and adults alike. Through this magical experience, users can now explore and learn the world with ease.
"The designers and creative directors of our team are all parents with children, so we can always stand in the perspective of children and parents and really understand what children need. Let children learn happily and let parents no longer worry about their children's learning – this is the original intention of our design of this product. In order to achieve this goal, we have made great efforts to constantly improve our creativity."
To learn more about AR Globe – Window to the World, visit Wuba Lab page on Kickstarter.
Media Contact
Company Name: AR Globe
Contact Person: Andy
Email: Send Email
Country: China
Website: https://www.kickstarter.com/projects/1687804303/ar-globe-window-of-the-worldlearn-about-the-world-at-home?ref=2j2bsc&token=a4410811