New Delhi – April 5, 2021 – Small and Medium Enterprises (SMEs) play a major role in most economies, particularly in developing countries. SMEs account for the majority of businesses worldwide and are important contributors to job creation and global economic development. They represent about 90% of businesses and more than 50% of employment worldwide. Formal SMEs contribute up to 40% of national income (GDP) in emerging economies. These numbers are significantly higher when informal SMEs are included.
World Intellectual Property Day is observed annually on 26 April. The event was established by the World Intellectual Property Organization (WIPO) in 2000 to "raise awareness of how patents, copyright, trademarks and designs impact on daily life" and "to celebrate creativity, and the contribution made by creators and innovators to the development of societies across the globe". 26 April was chosen as the date for World Intellectual Property Day because it coincides with the date on which the Convention Establishing the World Intellectual Property Organization entered into force in 1970.
World Intellectual Property Organization (WIPO) is celebrating World IP Day of the year 2021 with the theme of "IP & SMEs: Taking your ideas to market".
IPR-FOR-Society, a non-profit organization and IP Moment services are going to celebrate World IP Day this year on April 26, 2021. On WorldIPDay2021, IP quiz will be organized and webinars. Webinars are going to be delivered by the IP experts. Arjel P. Guzman, CEO of OPTMARKS from Philippines; Philip Furgang, partner of Furgang & Adwar LLP, USA; and Akihiko Watanabe of Watanabe International Law offices, Japan; and Dr. Pareshkumar C. Dave, IP Moment, India will be delivering their expert talk on the WORLDIPDAY.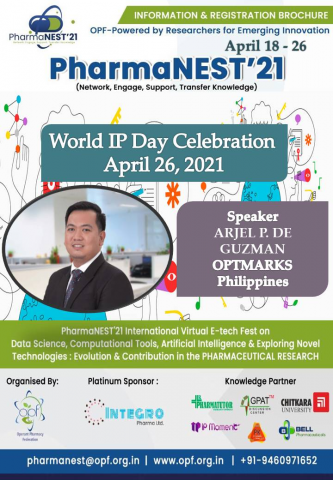 During these unprecedented times of a pandemic, the Operant pharmacy Federation (OPF) has decided to uphold an international virtual conference to reach a maximum number of working professionals of the various industries and explore the various strategies towards development together; hence the event will be conducted on an E-platform from April 18 to 26.
Media Contact
Company Name: IPR-FOR-Society
Contact Person: Dr. Pareshkumar C. Dave
Email: Send Email
Phone: +918920004700
Country: India
Website: www.ipmoment.com