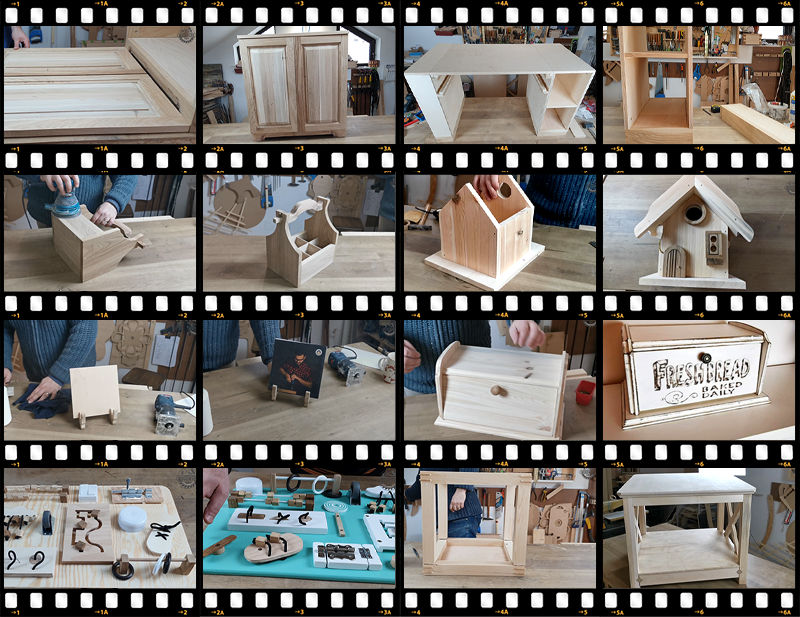 A woodworking project can be challenging for many people to begin and finish successfully. The largest obstacle is frequently a lack of particular knowledge and direction. It's typical for people to feel uncertain about building something with wood if they don't have the proper tools and step-by-step instructions.
Imagine devoting hours to mastering the craft of woodworking without making any extra effort. It is possible by sitting at home easily and learning through a program. Yes, it is possible because of Woodwork101. It includes videos that function similarly to a road map for achieving your goal of becoming a master craftsman. The curriculum for Woodwork101 is designed to help people from making mistakes like wrong measurements, inadequate preparation, or confusing instructions. Simply follow the instructions and enjoy your work.
As a full video curriculum, Woodwork101 presents all content in high definition. The main goal is to provide an invaluable tool for craftsmen's skill development, appealing to both beginners and those with intermediate skill levels.
One important thing that Woodwork101 highlights is the fact that people frequently spend a lot of money on basic woodworking projects. The program makes clear that these products' true production costs are frequently far lower than their retail prices, generally between 50% and 60% less. This information emphasizes how doing do-it-yourself woodworking projects can help people save money.
The ability of the Woodwork101 video course to empower people is what makes it unique. It gives people the resources and direction they need to start making wooden furniture for their homes, like tables and armchairs. In addition to saving money, this move toward a more hands-on approach increases user engagement for those who feel satisfied from doing things themselves.
The program turns into an affordable substitute for buying completed woodcrafts, providing the added advantage of being able to save money as well as the satisfaction that comes from actively engaging in do-it-yourself woodworking projects. Thus, Woodwork101 turns into a life-changing event that gives people the chance to express their creativity and woodworking abilities while also helping to create customized and one-of-a-kind wooden products.
The Woodwork101 program is an innovative tool that provides advanced instructions, thorough material lists, and intricate drawings to both experienced and beginning woodworkers. The program accommodates a broad range of preferences and ability levels with its varied selection of projects.
After purchasing the program, consumers begin their woodworking adventure by watching the introduction video, which serves to familiarize them with the course as a whole. This first stage not only gives a program overview but also communicates important knowledge about the supplies and equipment needed for the next initiatives.
The program's practical nature becomes evident when users start working on projects. Step-by-step instructions are provided by in-depth project videos. This practical approach guarantees that people can confidently take on their chosen projects.
When an individual completes a project on Woodwork101, he has a plethora of additional projects to pick from, so his learning experience never ends. Its dedication to staying up to date, the projects get monthly updates so this is what makes it unique. This dynamic feature makes sure that users are constantly presented with fresh possibilities and difficulties, which promotes a lifelong learning process that keeps woodworking lovers interested and developing their trade.
Affordable Learning:
Woodwork101 offers a reasonably priced path for learning woodworking, which helps to eliminate financial obstacles. This program ensures that those with limited funds can still obtain in-depth education because it is an affordable substitute for traditional woodworking sessions. For individuals looking to start woodworking without any expense, Woodwork101 is an affordable option.
Convenient Flexibility:
The program's adaptability is one of its best qualities. In contrast to traditional classrooms with set schedules, Woodwork101 lets people set their own pace for learning. Its flexibility is a big plus since it allows them to more easily incorporate woodworking into their hectic schedules without being constrained by strict deadlines.
User-Friendly Approach:
With its easy-to-understand step-by-step video lessons, Woodwork101 is great for beginners. Even individuals without any prior carpentry knowledge can easily navigate through the program's many components because of its user-friendly design. The clear and simple instructions make learning fun and remove any obstacles that might be present for those who are new to it.
Worldwide Availability:
Since Woodwork101 is available to anybody with an internet connection, it crosses national boundaries. This global reach guarantees that students around the world can easily get an education in woodworking. With the program, knowledge is made accessible to everybody, regardless of where they live, woodworking skills can be learned.
Adaptable Project Scope:
One way that Woodwork101 sets itself apart is by offering a wide range of woodworking tasks. With furniture, decorations for the home, toys, and pet supplies included, the program offers something for everyone, regardless of interest or ability level. This adaptability creates a dynamic learning environment by allowing students to select projects that are in line with their interests. It is made feasible for people to advance from simple to complex projects, enabling them to develop and earn self-assurance in their woodworking abilities.
Environmentally Conscious Learning:
Beyond just the technique, Woodwork101 fosters an eco-friendly mindset. Through the program's instruction on repurposing unwanted wood, learners actively contribute to waste reduction and sustainability. This environmentally friendly method fits well with the expanding trend in woodworking toward ecologically friendly methods. In addition to learning new skills, students who take up woodworking also help to make their activity more environmentally friendly and sustainable.
High-Quality Instructional Videos:
The excellent high-quality instructional video in the Woodwork101 Program allows users to fully engage themselves in the craft of woodworking.
Access anywhere:
Savor the ease of having access to the Woodwork101 Program at any time and from any location. Through the program's official website, anyone can easily access the world of woodworking with just a smartphone and a basic internet connection. Because of its accessibility, education can be flexible and accommodate the hectic schedules of people.
An Easy-to-Use Framework for Stress-Free Learning:
The approachable design of the program makes the woodworking world simple. The well-planned arrangement of the videos offers a methodical approach that removes uncertainty and promotes a seamless learning curve. Building wooden objects becomes a manageable task because of the methodical layout, regardless of skill level.
Adaptable Guides for Various Projects:
Discover the Woodwork101 Program's versatility with tutorials that address a variety of wooden projects. The program provides a wide choice of tutorials to meet your needs. People can easily find instructions for different woodworking projects.
Instructions for All Skill Levels:
Designed to be inclusive, Woodwork101 provides simple, uncomplicated instructions appropriate for users of all skill levels. The curriculum makes sure that everyone can follow along and gain from the insightful information offered, regardless of experience level or inexperience. The objective is to establish a learning environment that takes into account the audience's varied experiences and backgrounds.
What is included?
If a person is interested in learning more about woodworking then Woodwork101 is an excellent resource. It includes the following:
Video Instructions in Steps:
Woodwork101 offers an amazing library of more than a thousand hours of high-quality, instructional videos. These tutorials cover every facet, essentially leading you through a project from start to finish. These thorough instructions guarantee that people can confidently start their woodworking journey, even if they are new.
3D And 2D Detailed Schematics:
Recognizing that excellent schematics are just as important as seeing the construction process firsthand, Woodwork101 augments its services by providing comprehensive 3D and 2D schematics and plans for every project. By enabling people to operate the construction process virtually "auto-pilot," these visual tools reduce waste and offcuts.
List of Parts, Tools, and Materials:
No matter how experienced one is, purchasing additional materials or having to make the dreaded second trip to the store are regular obstacles in woodworking. To get rid of these worries, Woodwork101 provides an exhaustive inventory of parts, tools, and materials at the start of the project.
The Woodwork101 curriculum is advertised to be worth $89 on the official website, however, it is presently available for a discounted price of $49. This reduction is a conscious attempt to open up the program to a wider audience so that everyone interested in woodworking may afford to make use of the excellent information it provides. The pricing structure welcomes people from all backgrounds into the realm of woodworking and is designed to be inclusive.
In addition to the core training, Woodwork101 provides free bonuses worth a total of $29. These extras are designed to improve users' decision-making abilities and broaden the scope of their woodworking knowledge.
Bonus 1: Razor Sharp Protocol
Understanding how important high-quality tools are to woodworking, the Razor Sharp Protocol supplement offers helpful advice on how to maintain your instruments. To maintain their tools in the best possible functioning condition, users receive advice on how to properly sharpen them. This bonus emphasizes the value of well-maintained tools, which are intended to improve the overall woodworking experience.
Bonus 2: Tool Crafting Secrets
The Tool Crafting Secrets DLC shows off the creative side of woodworking by teaching players how to make their carpentry equipment out of leftover materials. This offers a useful and affordable substitute for buying tools, in addition to enabling users to produce distinctive woodwork using customized equipment.
Bonus 3: The Perfect Timber
A key element of woodworking that influences the final product's quality is the selection of wood. The Perfect Timber supplement serves as a comprehensive manual to assist people in selecting the appropriate wood for a range of tasks. The success of customers' woodworking projects is increased by this addition, which guarantees that consumers make good selections.
In conclusion, anyone looking to learn more about woodworking should check out Woodwork101. The course excels in being practical and affordable, offering a comprehensive and flexible understanding of woodworking concepts and processes together with an approachable, beginner-friendly experience.
The most notable aspect of the program is its extensive library of detailed video instructions, which are simple to comprehend and adhere to, particularly for individuals who are new to working with wood. Regardless of your level of experience, Woodwork101 provides a thorough and adaptable learning environment in the field of woodworking.
The Woodwork101 program offers a comprehensive instructional experience, differentiating it from other free online videos. Unlike other courses, Woodwork101 goes above and beyond by providing thorough instructions in the form of video instructions, schematics, and 2D and 3D blueprints. This novel approach aims to gradually enhance a user's handicraft skills, ensuring a more supportive and beneficial learning environment.
The main component of the program consists of over sixty images that demonstrate how to construct simple woodworking items, such as toys, seats, trinkets, and more. These drawings are indispensable tools that provide users with tangible visual aids to help them become skilled in a range of woodworking tasks. The program continues there, offering more prizes and packages to help participants enhance their making and artisan abilities.
The Program presents itself as a thorough and encouraging platform for individuals wishing to explore the world of woodworking because of its dedication to providing extensive instructions, along with visual aids and extra resources.
Media Contact
Company Name: Woodwork101
Contact Person: Media Relations
Email: Send Email
Country: United States
Website: https://rebrand.ly/628910