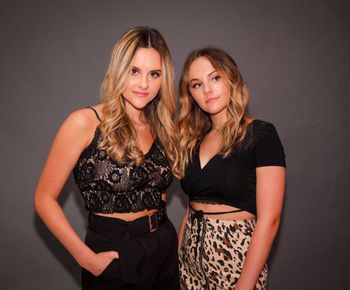 Talented pop duo of Kayla and Kelli Lutzwig, Wild Fire, set to release another single titled "Rolling With The Stones"
Kayla and Kelli Lutzwig have broken into the limelight in the music industry as a pop duo that is poised with challenging the big wits and taking the industry to a whole new level. The talented mid-teens are expected to drop another song "Rolling With the Stones" on July 10. The song, like many other works from Kayla and Kelli, will offer lovers of pop and good music as a whole an amazing blend of great tunes and rich lyrical content.
The music world has evolved over the years, with different stakeholders in the entertainment industry contributing their quota to the growth of the industry. While there are tens of thousands of musicians and other such entertainers in the industry, many of them have not been able to satisfy the needs of music fans. This is as most of the talented acts in the industry seem to have deviated from the true essence of making music, with most of the available works seemingly lacking any concrete message. This is where the likes of Wild Fire have been able to carve a niche for themselves in the industry with an amazing blend of good music with thought-provoking content to not only entertain but also inspire listeners.
"Rolling With The Stones," which will be distributed by CD Baby, is a further reiteration of the pop group's determination of using music as a tool to pass messages, delivering inspirational lyrics on a banging beat that is sure to get everyone dancing. The country music stars bring their amazing vocals and subtle power, which have made them one of the most irresistible and enchanting artists in pop music today to the song.
Described by Linda Wilson, President of the Texas Country Music Association as "one of the best up-and-coming young artist duos out there," the multifaceted entertainers have not stopped in making good songs and wowing audiences across the nation since their debut in 2016, with songs like "Been There," "Southern Summer," and "Believe." Studying with celebrated vocal coach Pamela Moore and inspired by notable pop figures, the multitalented songwriting and guitar-playing duo have been able to transfer their energy and creativity to numerous live theater and dance productions.
For more information about "Rolling With The Stones" and other projects from Wild Fire, please visit – https://wildfiresings.com/. Wild Fire is also available across several social and digital streaming platforms, including –
Twitter: @wildfiresingers
Soundcloud and
Media Contact
Company Name: WildFire
Contact Person: Bob Page
Email: Send Email
Country: United States
Website: wildfiresings.com