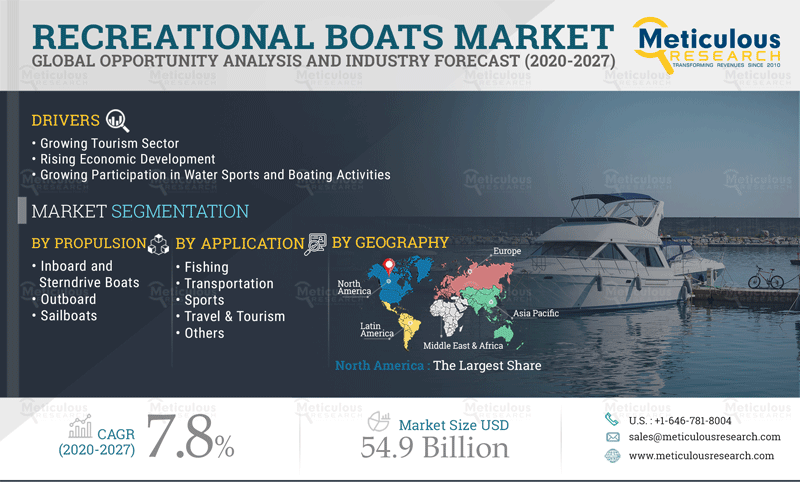 The recreational boats market is expected to grow at a CAGR of 7.8% from 2020 to 2027 to reach $54.9 billion by 2027 from $37.7 billion in 2020.
Recreational Boats Market by Propulsion (Outboard, Inboard and Sterndrive), Boat Size (Up To 20 Ft., 21 To 35 Ft.), Engine Type (Diesel, Electric), Horsepower (Below 250 HP, 250 to 500 HP) and Application (Fishing, Sports)– Global Forecast to 2027
The growing trend of autonomous technology in mobility applications is supporting the development of autonomous recreational boats. Integration of advanced electronic, hardware-software, and sensor-based technologies in outboard boats is expected to promote the success of autonomous boats. Companies in the recreational boating industry are collaborating with technology providers to develop assisted and AI-based systems in boats to facilitate consumers with features similar to automotive vehicles. In its latest publication on the recreational boats market, Meticulous Research states that the market will increase at a CAGR of 7.8% from 2020 to 2027 to reach $54.9 billion by 2027.
The implementation of IoT and related technologies, such as intelligent solutions, sensors, and wearables in boats, is expected to create a major disruption in the recreational boats market. These technologies and components allow users to experience connectivity and smart boat features. With the integration of wireless sensors and smartphone applications, customers will be able to check the vessel and essential systems. The sensor integration offers consumers real-time boat monitoring features and increases boat security, further driving the recreational boats market.
To provide efficient analysis, Meticulous Research has segmented this market based on propulsion (outboard boats, inboard & sterndrive boats, and sailboats), boat size (up to 20 ft., 21 to 35 ft., and 36 to 50 ft.), engine (diesel and electric), and application (fishing, sports, travel & tourism, transportation, and others), and geography (North America, Europe, Asia-Pacific, Latin America, and the Middle East & Africa).
Download Free Sample Report Copy Here : https://www.meticulousresearch.com/download-sample-report/cp_id=4295
Scope Of The Report
Recreational Boats Market, by Propulsion
Outboard Boats
Inboard & Sterndrive Boats
SailBoats
Recreational Boats Market, by Boat Size
Up to 20 Ft.
21 Ft. to 35 Ft.
36 Ft. to 50 Ft.
Recreational Boats Market, by Engine
Recreational Boats Market, by Horsepower
Up to 250 HP
250 HP to 500 HP
Above 500 HP
Recreational Boats Market, by Application
Fishing
Transportation
Sports
Travel & Tourism
Others
Recreational Boats Market, by Geography
North America
Europe

U.K.
Germany
France
Italy
Spain
Sweden
Finland
Norway
Russia
Rest of Europe

Asia-Pacific (APAC)

China
India
Japan
Rest of APAC

Latin America

Argentina
Chile
Rest of LATAM

Middle East and Africa (MEA)

UAE
Saudi Arabia
South Africa
Rest of MEA
To gain more insights into the market with a detailed table of content and figures, click here : https://www.meticulousresearch.com/product/recreational-boat-market-4295
Electric boat engines are expected to witness huge demand in the recreational boats market. The high demand for electric boats over diesel engines is attributed to low emissions, optimized fuel consumption, and lightweight & compact structures. The replacement of traditional boats with electric boats is a major factor for the disruption of the European market. The citizens and governments in Europe aim to reduce the carbon emissions from motors & engines and lower the impact of global warming in the region.
Factors such as the presence of a large population of high-net-worth individuals in North America, growing disposable income, growing tourism industry, and improving the housing market drives the demand for outdoor leisure activities, such as boating. This is encouraging boat manufacturers to build new plants and expand their production capacity to fulfill the growing demand. It is expected that the growth trajectory of the U.S. recreational boats market will grow significantly in the coming years, with the introduction of new products ranging from small fishing boats to large luxury yachts into the market landscape.
The report also provides competitive intelligence in terms of financials, growth strategies, product portfolios, and geographical presence on some of the key players in this market, including Groupe Beneteau (France), Brunswick Corporation (U.S.), Marine Products Corporation (U.S.), Carnival Corporation & plc (U.S.), Royal Caribbean Cruises Ltd. (U.S.), Norwegian Cruise Line Holdings Ltd. (U.S.), MCBC Holdings, Inc. (U.S.), Malibu Boats, Inc. (U.S.), Grand Banks Yachts Ltd. (Singapore), Porter, Inc. (U.S.), Grady-White Boats, Inc. (U.S.), Maverick Boat Group, Inc. (U.S.), Correct Craft (U.S.), Baja Marine (U.S.), Pacific Asian Enterprises (U.S.), Albemarle Boats (U.S.), Yamaha Motors Co. Ltd. (Japan), and Sunseeker International Limited (U.K.).
Speak to our Analysts to Understand the Impact of COVID-19 on Your Business: https://www.meticulousresearch.com/speak-to-analyst/cp_id=4295
Key Players
The key players in the market focus on organic and inorganic growth strategies to strengthen their position in the recreational boats market. The companies adopt collaborations and strategic partnerships to offer an innovative portfolio to cater to a wide application area. The key market players emphasize mergers and acquisitions to widen their product portfolio.
The report also covers the impact of COVID-19 on the recreational boats market. The market is witnessing a sudden dip owing to the lockdown imposed, leading to disruptions in manufacturing and sales. However, the market is expected to gain traction by 2021 with the rising tourism activities and demand for socially distanced leisure activities in North America.
Amidst this crisis, Meticulous Research® is continuously assessing the impact of COVID-19 pandemic on various sub-markets and enables global organizations to strategize for the post-COVID-19 world and sustain their growth. Let us know if you would like to assess the impact of COVID-19 on any industry here-https://www.meticulousresearch.com/custom-research
About Meticulous Research®
Meticulous Research® was founded in 2010 and incorporated as Meticulous Market Research Pvt. Ltd. in 2013 as a private limited company under the Companies Act, 1956. Since its incorporation, the company has become the leading provider of premium market intelligence in North America, Europe, Asia-Pacific, Latin America, and the Middle East & Africa.
The name of our company defines our services, strengths, and values. Since the inception, we have only thrived to research, analyze, and present the critical market data with great attention to details. With the meticulous primary and secondary research techniques, we have built strong capabilities in data collection, interpretation, and analysis of data including qualitative and quantitative research with the finest team of analysts. We design our meticulously analyzed intelligent and value-driven syndicate market research reports, custom studies, quick turnaround research, and consulting solutions to address business challenges of sustainable growth.
Media Contact
Company Name: Meticulous Market Research Pvt Ltd
Contact Person: Khushal Bombe
Email: Send Email
Phone: +1 646-781-8004
Address:1267 Willis St, Ste 200 Redding, California, 96001, U.S.
Country: United States
Website: www.meticulousresearch.com