Printing clothes and designs on fabric has never been easier with the advancement of technology. One of the most popular methods used today is digital printing, which offers high-quality, precise, and detailed prints on different types of fabrics. This is where Boyin digital textile printer comes in, offering custom fabric printing solutions that are versatile, efficient, and cost-effective. Here are some reasons why people should choose Boyin digital textile printer for theirfabric printing needs.
Boyin digital textile printer has a wide range of capabilities when it comes to printing on fabrics. The machine's advanced technology results in high-quality prints with vivid colors, sharp images, and precise details. People can print on different types of fabrics such as cotton, silk, polyester, and more, and achieve various printing effects such as gradient colors, 3D effects, and even metallic and fluorescent colors. With Boyin digital textile printer, they can create an endless range of designs that truly stand out.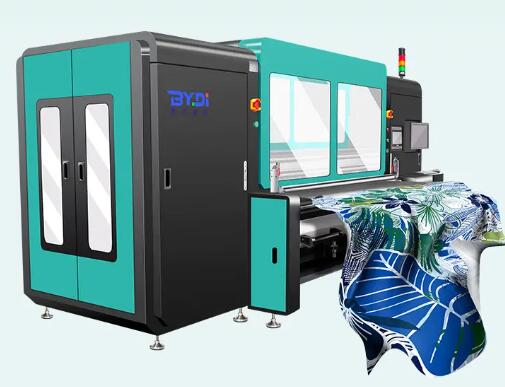 Efficient and Productive
Another reason to choose Boyin digital textile printer is its efficiency and productivity. The machine is designed to handle high-volume printing, meaning people can print large quantities of fabric in a short period of time. Unlike traditional screen printing, it eliminates the need for time-consuming setup and manual labor, allowing them to print with ease and speed. This makes it ideal for businesses that require fast and efficient printing of high-quality fabrics.
Cost-effective
When it comes to fabric printing, cost is always a concern. With Boyin digital textile printer, people can save on costs without compromising on quality. The machine's ink usage is optimized, resulting in less waste and lower ink consumption compared to other printing methods. This means they can produce more prints with less ink, reducing their overall printing costs. Additionally, digital printing offers more flexibility in terms of color and design, allowing people to create customized designs without the need for expensive screens or plates.
Easy to Use
One of the standout features of Boyin digital textile printer is its user-friendliness. The machine is designed to be easy to use, with an intuitive interface that allows them to control every aspect of the printing process. The software is user-friendly, allowing even beginners to create and edit designs in a matter of minutes. Maintenance is also a breeze, with the machine's self-cleaning system designed to minimize downtime and maximize productivity.
In summary, Boyin digital textile printer offers a range of benefits that make it an ideal choice for custom fabric printing. With its advanced technology, high-quality prints, efficiency and productivity, cost-effectiveness, and user-friendliness, it's no wonder why more businesses are choosing Boyin digital textile printer for their fabric printing needs. Whether people are a small business, a fashion designer, or just looking to create custom designs for personal use, Boyin digital textile printer is the perfect solution to help them achieve their printing goals.
Media Contact
Company Name: Zhejiang Boyin Digital Technology Co., Ltd.
Email: Send Email
Phone: 0086-18368802602
Country: China
Website: https://www.boyindtg.com/