Recently, an Oregon-based company BMbridal launched the modest bridesmaid dresses to all the people hunting for an appropriate dress to attend a wedding, which was well recognized by the bridesmaids.
It is known that finding a perfect bridesmaid dress to attend a wedding would be one of the hardest parts for a bridesmaid. The dresses have to be pretty, modest, affordable and easily shopped yet wherever the bridesmaid looked, at least one of the qualifications were not met.
When a girl is invited to be a bridesmaid dress, the first task is to find an appropriate bridesmaid dress and a modesty bridesmaid dress would be the best. But it will be a really painful experience because there are not many such dresses at an affordable price. Usually, the girl will spend all day long to look for a beautiful dress on the sites but all in vain because it is really hard to find a modest bridesmaid dress.
On the sites, such situation will be happened frequently. If you find a dress having sleeves, you will also find it has a V neckline that shows all the things above the bellybutton. If you find a dress covering the front, you will also find the back will be open. If you find a dress having sleeves and an appropriate neckline, you will also find the hem will be really high. It is really a embarrassing experience.
BMbridal did a great deal of market research and found this situation and then make a decision to launch a new section for the modest bridesmaid dresses so that the bridesmaid could find a proper dress to attend the wedding ceremony.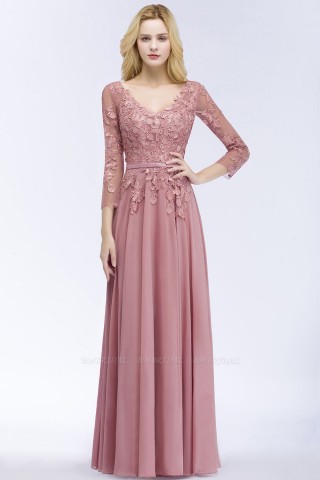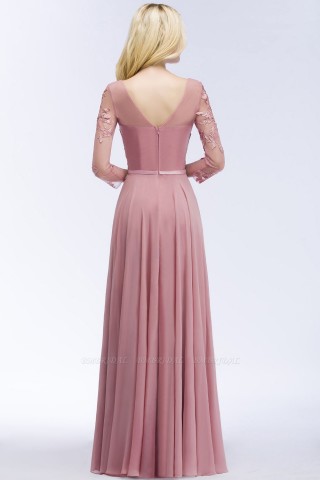 3/4-Sleeves Bridesmaid Dress with Appliques $109
This bridesmaid dress is elegant but modest. The 3/4 sleeves design is not too long or too short. The V neckline in both back and front is not so deep and showing off too much of you. The floor length hem could cover your feet completely and with the design of the lace on the top, you will feel much more elegant. The dress will be much more appropriate for a wedding if you want to look modest.
About BMbridal.com
Located in Oregon, the United States, BMbridal is aiming to be a convenient online shop that focuses on affordable bridesmaid dresses for any kind of wedding aesthetic. Your wedding is supposed to be this magical day in your life that you don't get do-over live again, which is why they want you to make it unforgettable.
Media Contact
Company Name: BM Bridal Co., Ltd.
Contact Person: Drue Fitzgerald
Email: Send Email
Phone: 1-510-598-5158
Address:4982 Bayview Dr
City: Stockton
State: CA
Country: United States
Website: https://www.bmbridal.com