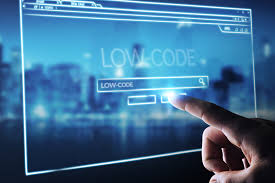 WaveMaker is a leading Java low-code platform that helps professional developers build modern, scalable, and secure applications with agility. Power-packed with features such as responsive UI abstractions, WYSISYG visual drag-and-drop of widgets, API-enablement, no vendor lockin, multi-cloud enablement, prefabs(reusable software components), and one-click deployment, WaveMaker is an apt choice for the professional developer who needs to abstract the mundane and focus on core essentials. It is the ideal choice for enterprises who want to respond to the demands of the dynamic marketplace rapidly and efficiently while providing the customer a terrific ride on the customer journey path.
One of the most robust and effective low-code development platforms on the market, WaveMaker compares easily with its competitors. Unlike other low-code platforms, WaveMaker is designed, keeping modern application development teams in mind. The platform autogenerates 100% open standards-based code which is completely extensible within the platform as well as on 3rd party IDEs. It uses a proven open-standard Java stack to enable app development on the cloud. Being a SaaS product in itself, WaveMaker enables multi-cloud as well as an on-premise installation. The developer-seat licensing model is hassle-free, simple, and non-constrictive allowing enterprises to create as many applications as they want and as deploy them wherever they want cost-effectively. Security is inherently taken care of. All auto-generated code is certified to be secure. In fact, the platform is the only Java low-code platform to be VeracodeTM certified protecting against the 10 OWASP vulnerabilities. Applications developed on WaveMaker can take the benefit of being better secured using OAuth and Role-based Access Control(RBAC). Security features such as OAuth, SSL encryption, and SSO can be built into the applications. A better insight on the feature-by-feature comparison of WaveMaker with Mendix vs Powerapps vs Outsystems can be found here.
Low-code platforms are known for the speed with which they can deliver applications to the market. One such dynamic market that is undergoing rapid transformation especially as a result of the pandemic is the banking and financial services industry. Banks and their partners are modernizing and churning out new user experiences at warp speed and low-code platforms are acting as effective accelerators. WaveMaker with its ability to provide feature-rich services such as an ever-expanding prefab repository ( with the capability to build domain-specific components), freedom of infrastructure, open architecture, and code ownership helps banks expand their digital landscape. WaveMaker aims to help banks, fintech, Independent Software Vendors(ISVs), and system integrators for disparate use cases. Whether it's implementation(read customization), modernization, or entirely new product development, WaveMaker brings benefits like agility, scalability, and cost-effectiveness, and modern user experiences to the table.
Banks are adopting the "Composable Banking" mantra and are joining forces with niche players to build a scalable architecture. This provides an impetus for banks to be partners with ISVs, BaaS players, and fintech. It is prudent for all the players to adopt a low-code platform like WaveMaker due to the following reasons:
– Complete code control, and ownership of code, artifacts, and infrastructure. WaveMaker autogenerated code allows developers to work comfortably with standards-based real-code that allows them to extend and modify code across application layers and external IDEs
– Rapid prototyping, easy maintenance, and faster product upgrades are possible due to the minimal efforts required by the development team to create, customize and deploy applications
– A sustainable licensing model that gives a competitive edge, not just lowering development costs but also all implied futuristic costs
– An almost flat learning curve, that needs very little training, quick onboarding, supports full-stack development, and encourages better resource management – just right for agile teams
– A modern technical stack that enables liaising with external systems and 3rd party services
– A flexible platform for applying branding styles, customizations, reuse of components (read workflows like loan processing, KYC) throughout the enterprise
– A platform that supports the creation and maintenance of the microservices architecture
One low-code platform with all the above-mentioned features and benefits is just what the doctor ordered. A rapid application development platform that can wear many hats, cater to many use cases, and enable varied industries and enterprises in their digital journey.
Whether it is composing everyday banking applications, or creating modern user experiences, facilitating embedded finance, or modernizing existing banking systems, low-code platforms like WaveMaker help in churning out feature-rich applications on the go. Rapidly and safely with profitable economies of scale.
Media Contact
Company Name: WaveMaker
Contact Person: Customer support
Email: Send Email
Address:4965 Preston Park Blvd, Suite 825
City: Plano
State: TX 75093
Country: United States
Website: https://www.wavemaker.com/