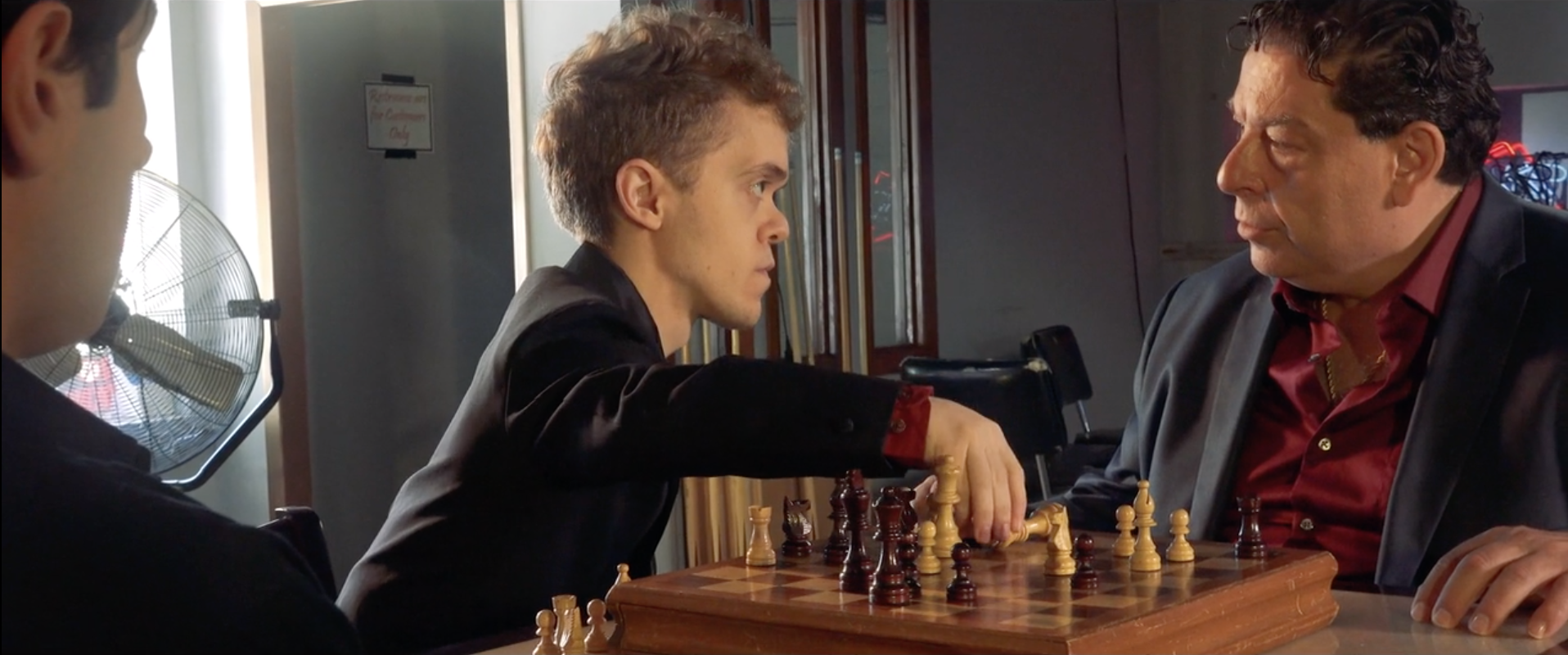 CHARLIE BOY still from the sizzle teaser trailer: L to R: Dave Morrissey Jr as Joey Shakes, Colin Buckingham as Vinnie Gallo and Greg Kritikos as Charlie Borakas.
Watch Crazy Cool Sizzle Teaser of Timothy Hines' Charlie Boy. Stand Up Comic turned movie star Greg Kritikos leads greatest of all time Cast Including Kelly Le Brock and Burt Young.
The extra crazy new sizzle teaser trailer for Charlie Boy features successful Stand Up Comic turned Movie Star, Greg Kritikos leading a greatest of all time cast including beautiful cameo performances by Kelly Le Brock and Burt Young with a planned release date of December 2019.
Former gangster, Charlie Borakas, who had an awakening after the tragic death of his son and became a stand up comic, takes on the mob, changing his entire community of Astoria, New York.
"Timothy Hines has created a masterwork with Charlie Boy," exclaims producer Susan Goforth, "He's lived so many lives and had so many joys as well as his share of tragedy, that I think he's channeling something. This is Timothy's best."
Director Hines' points to the synergy of he and Kritikos. "Like me, Greg Kritikos had challenges, setbacks and death in his life, yet found his way to the light through it all. Before shooting Charlie Boy, Greg would drop by the movie studio in Astoria, New York, after his stand up shows at places like the Broadway Comedy Club. We would grab a coffee and walk around the bustling Astoria. He pointed out thousands of details of the neighborhood, the people, the history and his past haunts. I saw a colorful tapestry making up a strong community of loyal and honest people that struck me as almost being out of place, like the values of a wonderful, yet forgotten other time. Greg and I compared notes and we bonded through how we both took sufferings and flipped them into positives. Charlie Boy is largely going to be successful based on this alchemy."


Kelly Le Brock as Donna in Timothy Hines' Charlie Boy starring Greg Kritikos.
Timothy Hines adds, "Of course there would be no beautiful Charlie Boy coming out if executive producer Dominick Martini didn't believe and take enormous risks to bring Charlie Boy to the screen. And seasoned producer Susan Goforth setting up and managing the production infrastructure. There is the clever and subtle script by Greg and Frederick (Stroppel), as well as a crew that carried huge responsibilities and met the bar of professionalism and even had room for art. For instance, Adam Gabel, WAS the lighting everything, as well as one of the funniest cast members in the movie. And what can I say about the sublime performances of Kelly Le Brock and Burt Young. You will just have to see."
Directed by Timothy Hines, Starring Greg Kritikos, Joanne Scorcia, Nicky Sunshine, Dave Morrissey Jr., Dominick Martini, Annunziato Carbone, Colin Buckingham, Teddy Smith, Peter Plano, Dino Castelli, Adam Gabel, Domenico Del Giacco, Heather Cole, Matt Silver, Dave Cremin, Giovanni Celentano, Natasha Coppola Shalom, George N. Mikedis, Janice Messitte, Mamiko Nakatsugawa, Saskia Larsen, Sara Rice, Greg Guzzetta with Kelly Le Brock as Donna and Burt Young as Luca. Executive Producer Dominick Martini, Produced by Susan Goforth and Greg Grigorios Kritikos, Original Song By Susan Goforth and Sandy Chila, performed by Madison Yanofsky, (Warner Chapell). Lighting Design Adam Gabel, Assistant Director Katerina Olkhovaya, Written by Frederick Stroppel and Greg Grigorios Kritikos. Photographed and Edited by Timothy Hines, Color by Marc Wielage (Chroma), Stills by Stoney Jackson.
The sizzle teaser trailer is currently available on Facebook here.
CHARLIE BOY
Some Bad Guys Become Good Guys
#CharlieBoy #SomeBadGuysBecomeGoodGuys #Comedy #TimothyHines #KellyLeBrock #BurtYoung #GregKritikos #DominickMartini #SusanGoforth #TomorrowsToday #SandyChila #CharlieBoyMovie #SizzleTeaserTrailer #ILoveAstoria
Media Contact
Company Name: School Of Old Media Entertainment
Contact Person: Susan Goforth
Email: Send Email
Phone: 310-480-0837
Country: United States
Website: www.charlieboymovie.com