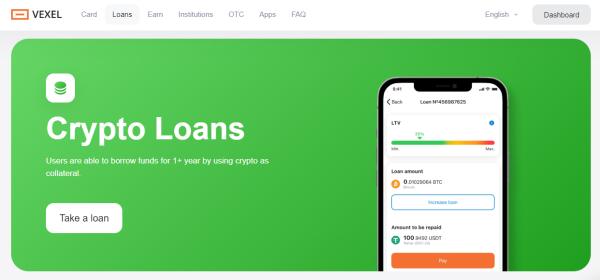 Do you want to invest in Cryptocurrency, such as Bitcoin and the likes but don't have enough finance to do that? Don't worry at all! VEXEL is here for you as it has started offering its users to borrow loans for 1 year by using cryptocurrency as collateral (loan security).
VEXEL is a leading platform for anyone looking to invest in cryptocurrency. You can buy bitcoin and other cryptocurrencies with ease, and keep them saved as digital assets for the future. Apart from that, you can also sell cryptocurrency on this platform, making it a perfect choice for everyone who wants to invest in this exciting new market.
Another great thing that appeals to people towards VEXEL is that this platform has made crypto financing very easy for its users. They can take loans ranging from $1000- $2000000 for 1 year in several types of cryptocurrencies, such as BTC, ETH, USDT (ERC-20), USDC, LTC, Dash, and Euro, etc. Hence, there are some crypto assets, like BTC and USDC that can be used as collateral for getting finance through VEXEL. This way, you have a great chance of getting a loan from VEXEL.
Nevertheless, the procedure of receiving crypto loans from VEXEL is quite simple and fast. All you need to do is to choose a cryptocurrency and the loan amount that you wish to get. Then, you also have to pick up the collateral currency and check the amount that you have to provide. Next is to go for the desired interest rate and the loan repayment period. After that, once you confirm the loan funds, you will get them transferred to your account immediately. No paperwork and tedious approvals are required to receive a crypto loan from VEXEL.
Beside this, VEXEL allows its users to use the loan amounts in many ways, which are as follows:
Borrowed funds can be used to fulfill any personal needs. It is quite easy to withdraw via any supported method. Thus, VEXEL's crypto loan is a great alternative to traditional loans.
If you want some extra funds urgently to execute a crypto trade but don't want to sell your crypto assets. Be rest assured you can take a loan from VEXEL.
Want to double up your capital amount? You can use borrowed funds to open a savings account within the VEXEL platform or use these funds to trade on a crypto exchange.
VEXEL is unique in way that not only does it let you select the desired loan amount, but it also allows you to choose your own interest rate (0.95%, 5.95%, 7.95%, and 9.95% per annum). However, it's important to keep in mind that the initial Loan-to-Value (LTV) ratio can affect the interest rate – usually, the higher the LTV, the higher the interest rate will be.
But, when it comes to loan repayment, VEXEL's terms are also fairly simple. You can always repay the full amount of the loan at once before the due date. In this case, the interest on the loan will be recalculated and rounded up to the hour. On the other hand, you can also repay the monthly measure from your set collateral. Keep in mind that if the extent of collateral reduces, the LTV will increase.
Lastly, the great thing about VEXEL is that you can take out multiple loans at the same time to use for different purposes. For example, you can use one to withdraw cash, another to exchange currencies, and another to create a deposit. As long as you have undergone identity verification, you can take out a loan. Visit https://vexel.com/loans/ for exclusive information.
Media Contact
Company Name: Vexel
Contact Person: Media Relations
Email: Send Email
Country: Ireland
Website: https://vexel.com/loans/