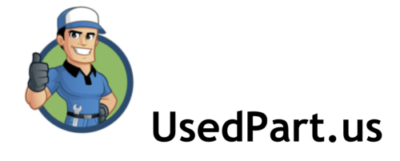 August 19, 2020 – Car owners and anyone looking to acquire quality but affordable automobile parts can now look up to UsedPart.us. The US-based company has earned rave reviews for the quality of its auto parts and range of inventory.
Car and vehicle maintenance bills can run into hundreds and thousands of dollars. According to google search results, over 5000 users search for the term "junkyards near me" on the platform monthly. With the unreliability of cheap, aftersales auto parts, used OEM components are preferred by many enthusiasts. For over 17,000 clients, the number one online market for used auto parts all over America is UsedPart.us.
At UsedPart.us, there is a huge auto salvage network that is buzzing with millions of used auto parts in stock. This amounts to over 200+ million auto components in their inventory, including used engines.
With its extensive inventory, UsedPart.us is home to many hard-to-find components like engines, transmissions, and other auto parts. Recently, the company established ties in Canada for people looking to visit reliable junkyards in the country. Many happy customers imply that "there is no going wrong with UsedPart.us". This is mainly because the website ensures to match vehicle information with the exact vehicle parts from their inventory. Thus offering only relevant, functional auto parts.
Car owners and repair shops are also urged to search across thousands of used engines from the company's inventory. The warehouse has connections with auto recyclers across the US, and is a good spot for anyone asking google for "quality used engines near me".
UsePart.us ensures that the automobile parts in their inventory are cleaned, repaired, inspected, and tested before they are put up for sale. The company's platform is designed to refer customers to other valid junkyards in case certain parts are unavailable. They go one better by helping their customers negotiate the prices in such cases.
"Our company has invested a lot of hard work in centralizing and connecting with over 18k salvage yards and junkyards, bringing them into one centralized database. UsedPart.us knows exactly the quickest and painless way to start looking for used auto parts near you," says a spokesperson for UsedPart.us.
If old cars or trucks need to be repaired, a lot of parts may need replacement, which may increase the cost of said repair. Used OEM parts are seemingly a smart way to cut the bill down.
For more information, please visit: https://www.usedpart.us
Media Contact
Company Name: Used Parts
Contact Person: Customer Support
Email: Send Email
Phone: 800-646-4790
City: Bowling Green
State: KY
Country: United States
Website: https://www.usedpart.us/