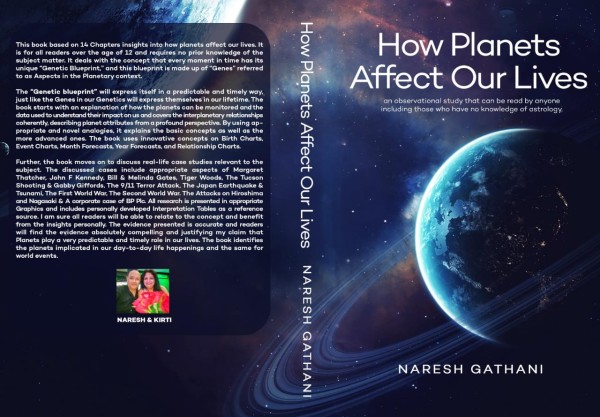 Prepare to embark on an extraordinary journey through the cosmos as author Naresh Gathani uncovers the mysterious relationship between celestial bodies and human existence in his groundbreaking book, "How Plants Affect Our Lives." This compelling literary masterpiece is set to revolutionize our understanding of the universe and its profound influence on every aspect of our lives.
Through 14 mind-gripping chapters, the book delves into the fascinating realm of planetary effects on human destiny. Impeccably crafted for readers of all ages, the book requires no prior knowledge, making it accessible to curious minds aged 12 and above. Within its pages lies a revelation that every moment in time is shaped by a unique "Genetic Blueprint," comprised of planetary "Genes" known as Aspects.
At the heart of this eye-opening exploration lies the notion that the "Genetic Blueprint" manifests predictably and timely, just like the genes within our own bodies. Naresh guides readers on a profound journey through the cosmos, unraveling the intricate web of interplanetary relationships. Ingeniously employing novel analogies, he demystifies both fundamental and advanced concepts, making astrology approachable for everyone.
Intriguingly, The book offers practical insights through innovative concepts such as Birth Charts, Event Charts, Month Forecasts, Year Forecasts, and Relationship Charts. Supported by compelling research and captivating graphics, the narratives present real-life case studies featuring prominent figures like Margaret Thatcher, John F Kennedy, Bill & Melinda Gates, Tiger Woods, and significant global events, including the 9/11 Terror Attack and the First and Second World Wars.
"I am sure all readers will be able to relate to the concept and benefit from the insights personally," says Naresh Gathani. The evidence is accurate and compelling, supporting the author's bold claim that planets play a crucial and predictable role in shaping our lives and the world's events.
With "How Plants Affect Our Lives," Naresh Gathani establishes himself as an astute guide, bridging the gap between the cosmic realm and human reality. This illuminating and provocative masterpiece promises to expand minds, challenge perceptions, and leave readers awe-inspired by the wonders of the universe.
Company Name: AMZ Marketing Hub
Author Name: Naresh Gathani
Contact Email: naresh.gathani@gmail.com
Contact Number: 447963328549
Website: https://www.amazon.com/How-Planets-Affect-Lives-observational/dp/1916617476/
Country: United Kingdom
Media Contact
Company Name: AMZ Marketing Hub
Contact Person: Naresh Gathani
Email: Send Email
Phone: 447963328549
Country: United Kingdom
Website: https://www.amazon.com/How-Planets-Affect-Lives-observational/dp/1916617476