5 reasons why Shenzhen Global Marine Economy Forum 2023 (23-24 Nov Shenzhen China) is a must-attend event
China Marine Economy Expo (referred to as "CMEE") is the only national marine economic exhibition in China. After moving to Shenzhen in 2019, it has been successfully held for three times, which has made positive contributions to promoting the high-quality development of China's marine economy and promoting international marine economic exchanges and cooperation. The 2023 CMEE will be held in Shenzhen, China, from November 23 to 25, 2023, with a higher starting point, higher quality, and more international standards.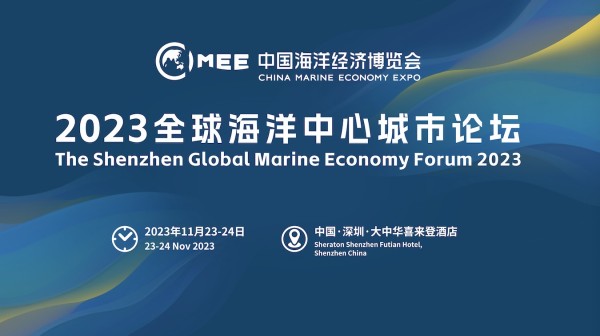 As the strategic forum of the CMEE, the Shenzhen Global Marine Economy Forum (referred to the "Forum") will be held from 23 to 24 November 2023 at the Sheraton Shenzhen Futian Hotel in Shenzhen, China. With the theme of global marine center city construction, the Forum will invite experts and representatives from international organization, domestic and foreign government department, commercial and technological sectors, as well as academia to be the speakers, and set ten topics around the evaluation indicators of global marine center city, such as marine technology, marine industry, shipping and transportation, marine civilization, as well as marine cooperation and governance. The discussions aim to provide experience and suggestions for promoting exchanges and cooperation among global marine cities, accelerate the development of blue partnership, promote the high-quality development of the marine economy, and contribute to building a more internationally competitive, attractive and creative global marine center city.
The following are 5 reasons why Shenzhen Global Marine Economy Forum 2023 (23-24 Nov Shenzhen China) is a must attended event.
1. Opportunities for Global Perspective Exchange and Cooperation
The forum offers a unique platform for participants to engage with experts and leaders in the marine economy from around the world. This international dialogue allows for an understanding of the latest advancements and challenges in the marine economy across different nations, providing global perspectives and insights for one's business or research.
2. Showcase of Advanced Technologies and Innovations
The forum will showcase the latest technologies and innovations in the marine economy, covering areas such as sustainable development, resource utilization, and environmental protection. Participants can gain firsthand knowledge of cutting-edge technological developments, inspiring innovation and new ideas for their businesses or research.
3. Networking and Partnership Opportunities
A significant benefit of participating in this international forum is the opportunity to connect with industry experts and businesses from around the world. This provides an excellent chance to build meaningful professional networks and explore potential partnerships.
4. Market Insights and Business Opportunities
The forum offers an opportunity to gain deep insights into the dynamics of the global marine economy market, including trends, growth opportunities, and potential challenges. This information is crucial for developing effective market strategies and seizing new business opportunities.
5. Policy Guidance and Regulatory Updates
The forum may also discuss international marine regulations and policy trends, which are crucial for businesses that need to comply with these regulations or wish to expand their operations within these policy frameworks. Understanding this information can help businesses better plan their future strategies and operations.
Attending the Shenzhen Global Marine Economy Forum 2023 offers significant benefits in terms of gaining global perspectives, learning about the latest innovations, building networks, gaining market insights, and staying informed about policy and regulatory changes.
Media Contact
Company Name: China Marine Economy Expo (CMEE)
Contact Person: Media Relations
Email: Send Email
Country: China
Website: https://www.cimee.com.cn/en/