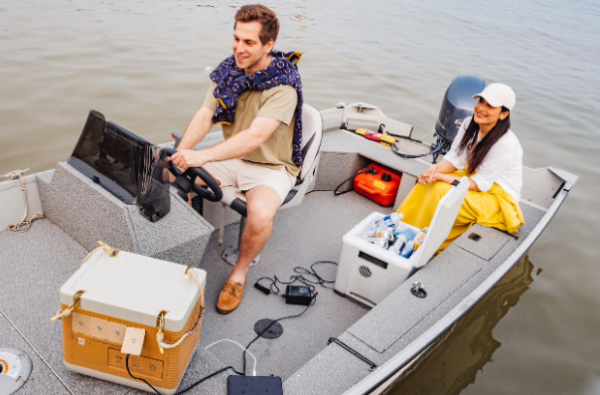 Arkpax is thrilled to announce the Ark 1800W, a groundbreaking portable power station that's designed to redefine the boating and fishing experience. Equipped with a host of innovative features and superior power capabilities, the Ark 1800W is set to make waves in the maritime adventure space.
The Ark 1800W boasts a substantial 1500Wh battery capacity with an 1800W output and a 3300W peak output. This power behemoth ensures that you never run out of power for your devices, whether it's for charging your phone, powering your laptop, or even running a blender – making it an indispensable part of your marine adventures.
In a pioneering move, the Ark 1800W is the world's first IP67-rated portable power station. This top-tier dustproof and waterproof protection ensures your power station stays dry and fully functional, regardless of the weather conditions out at sea.
What sets the Ark 1800W apart is its unique clean-friendly design. Its outstanding waterproof feature allows for easy cleaning, making it an ideal power solution for outdoor enthusiasts. The Ark ensures reliable power without the worry of water or dirt damage – no matter where your adventures take you.
Built to withstand the elements, the Ark 1800W comes equipped with an electric shockproof system, an internal cooling system, and an electrolysis-resistant coating. This robust power station is built to navigate through any situation, ensuring you always have a reliable source of power on your journey.
Designed for versatility, the Ark 1800W can charge a diverse range of devices, from phones and tablets to laptops, cameras, and drones. Enjoy a warm meal, stay connected, or light up your surroundings, all powered by the Ark.
The Ark 1800W features three unique charging methods – 500W solar charging, 240W car charging, and 1000W AC charging, ensuring you're never out of power. With an impressive two-hour charging time, your next adventure is always just around the corner.
But the Ark 1800W isn't just about exploration. It's a lifeline during emergencies. Its onboard Uninterruptible Power Supply (UPS) ensures that your essential devices stay powered during power outages.
Engineered for longevity, the Ark 1800W promises up to 10 years of reliable power supply. Tested over 1,000 lifecycles, the Ark continues to perform at 80% of its original capacity, even when pushed to its limits.
Featuring BMS 35, an advanced battery management system, the Ark ensures your power station is always running at peak performance. With onboard intelligence, BMS 35 optimizes the charging process of the Ark, delivering superior power while ensuring the longevity of your unit.
In conclusion, the Arkpax Ark 1800W is not just a portable power station; it's a testament to innovation, power, and resilience. Experience the freedom to explore the waters, powered by Ark.
For more information, please visit our official website: www.arkpax.com
Media Contact
Company Name: TWS Technology LLC
Contact Person: Olivia Stone
Email: Send Email
Country: United States
Website: https://arkpax.com/