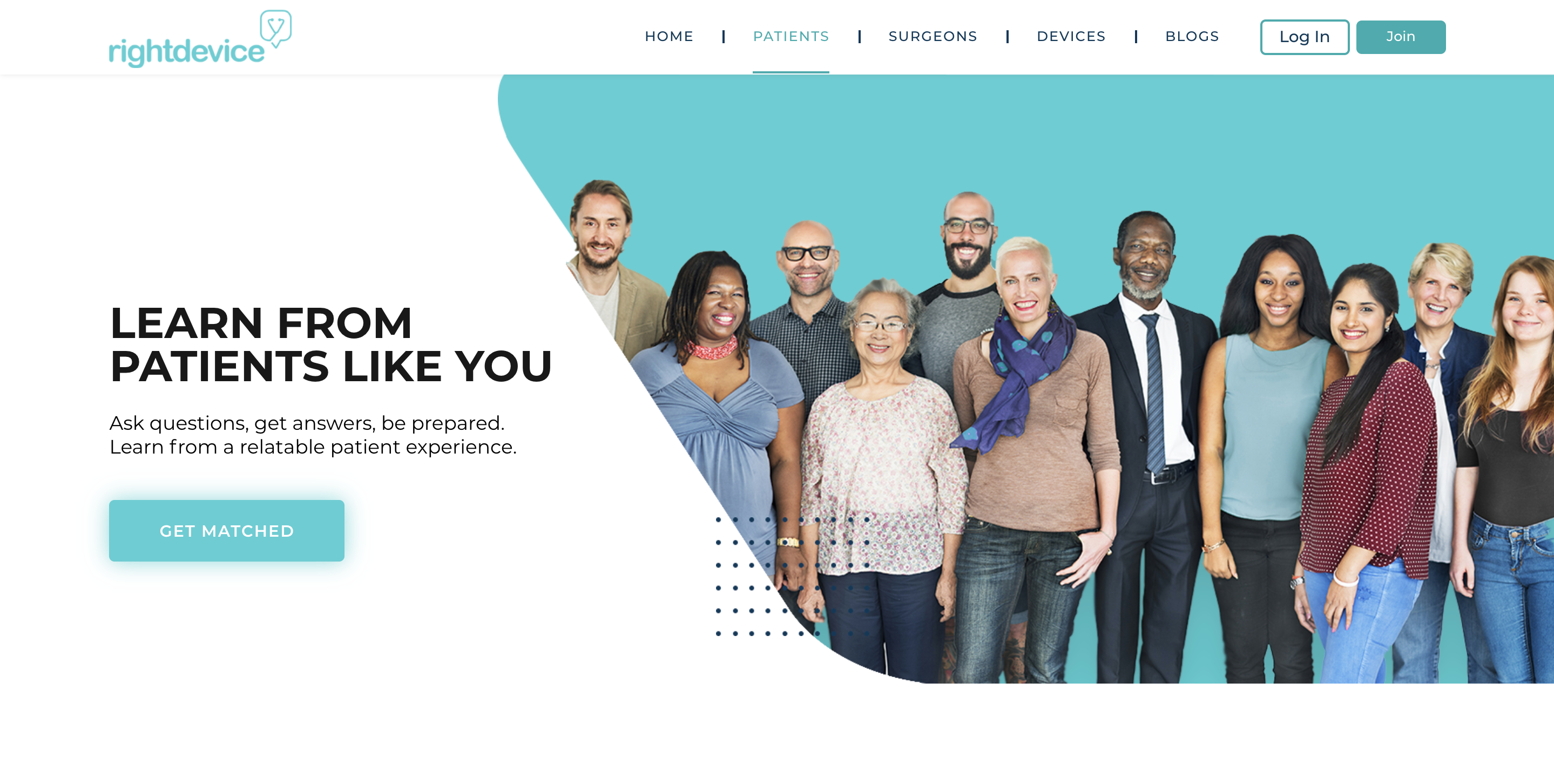 Rightdevice offers service that connects people going through surgery with a PatientPartner™ who has gone through the same surgical experience.
Rightdevice's PatientPartner™ is helping patients navigate their surgical journey by turning the daunting surgical process into a positive and comforting experience by connecting patients through relatable experiences.
Typically, a surgical support team includes the surgeon, doctors, family, and friends. Rightdevice's PatientPartner™ program introduces patients to another team player: someone who has undergone the same surgery they are prepping for. This gives patients the ability to ask surgery-specific questions, learn what to expect, and even hear about the recovery process firsthand from a patient perspective.
Rightdevice co-founder and COO Patrick Frank says, "As consumers, we, more than ever, are becoming increasingly empowered to make more educated decisions through technology. Healthcare is now finally following that trend."
PatientPartner™ is the first service that connects pre-surgical patients directly with fully recovered patients who went through the same surgery, with the same surgeon. The program is designed to assist surgeons, hospitals, and device companies in building a long-term referral network of patients by creating a one-of-a-kind patient experience. This new peer-to-peer patient advocacy program gives users the opportunity to learn from real experiences, and helps empower patients to achieve more successful outcomes through connectivity.
Rightdecive co-founder and CEO George Kramb adds, "Patients have been so ignored throughout the healthcare industry, and we are putting them at the center of everything that we are doing. The power needs to be restored back to the patients."
For more information, please visit https://www.rightdevice.com/patient_partner

Watch Rightdevice's YouTube videos at https://www.youtube.com/channel/UC5EthG-VCW6xJ6RnTPaYUIQ
Follow Rightdevice on Instagram @Right_Device
"Like" Rightdevice on Facebook at https://www.facebook.com/rightdevice
Connect with Rightdevice on LinkedIn at https://www.linkedin.com/company/rightdevice/?originalSubdomain=in
Media Contact
Company Name: Otter PR
Contact Person: Brittany Bearden
Email: Send Email
Phone: 800.648.6854
Country: United States
Website: www.OtterPR.com